HIGHLIGHTS
The 6.44-inch display and 5300mAh battery are its biggest highlights
The Mi Max 2 is a great device for watching videos and reading
Gadgets 360 rates the phone 8 out of 10
Xiaomi's Mi Max 2 is the company's fourth smartphone launched in India this year after the Redmi Note 4, Redmi 4A, and Redmi 4. Much like its predecessor, the Xiaomi Mi Max 2 bets big on a large display, and a massive battery.
At the Mi Max 2 launch event earlier this week, Xiaomi claimed that it has grown massively in terms of revenue in India compared to same period last year. We can safely assume that these figures more or less reflect the popularity of the low-cost Redmi series. There's no doubt that the Chinese company has seenpositive response to its recent Redmi series launches, but at the same time there hasn't been any buzz around the higher-end Mi series in India. In fact, the company is yet to decide whether the Mi 6 flagship will even launch here. The Xiaomi Mi Max 2 is the first premium model that this company has launched in over a year, following the Mi Max in June 2016.
The original Mi Max stood out in the category of phones with screens larger than 6 inches, and now we have a few other choices including the Lenovo Phab 2 Plus (Review), at the same price level. Apart from its huge display and big battery, the Xiaomi Mi Max 2 offers decent set of specifications. The big question is whether a phone like this is right for you. Let's find out.
Xiaomi Mi Max 2 design
There have been some significant design changes in the Mi Max 2 compared to the original Mi Max(Review), despite the fact that their screens are the same size. The all-metal body of the Mi Max 2 is more appealing and now features rounded edges that make it easier to hold. The 2.5D glass across the front gives it a more premium look, although the metal back is somewhat slippery. The antenna bands are more discreet, blending in with the colour of the back.
The Mi Max 2 is big for any kind of pocket, and we had some trouble carrying it around. We have used many 5.5-inch phones, and it was still hard to adjust to the Mi Max 2. During our time with this device, we found that it easily attracted people's attention just because of its sheer size. Apart from its size, weight is sometimes an issue. At 7.6mm thick, the Mi Max 2 is sleek enough and offers good grip but 211g is a lot for a phone. This is something that might (or might not) bother you.
In our experience, it was uncomfortable to use this phone while walking or trying to juggle other work. We had to be extra cautious while holding it with just one hand during our review period. Typing with just one hand is a tough task, and we advise users not to try unless they are very sure of their grip.
The Xiaomi Mi Max 2 has backlit capacitive buttons at the front placed just below the display. There's a front-facing camera and sensors above it, accompanied by the earpiece which also doubles up as a loudspeaker. The power and volume buttons are on the right, while the hybrid dual-SIM tray is on the left. The USB Type-C port is on the bottom between two grilles, but we noticed that only one was an actual speaker while the other was just a design element.
The phone has an Infrared emitter on the top panel, accompanied by the 3.5mm audio socket. We found that we could reach the fingerprint scanner on the back while holding the phone with just one hand, but we have to point out that people with smaller hands might have trouble with this.
In terms of construction quality, the Mi Max 2 looks solid. Fortunately, the back panel is not a fingerprint magnet, which means you won't need to worry about wiping the phone from time to time. The Mi Max 2 has slimmer screen borders than the original Mi Max, and this means less distraction when watching videos.
Xiaomi has launched the Mi Max 2 only in black, and it looks stunning, but we can expect more colour options to be released over time. Inside the retail box, you get standard set of documentats, a SIM ejector tool, a USB Type-C cable, and a charger, apart from the phone itself. Xiaomi doesn't ship earphones with any of its phones.
Xiaomi Mi Max 2 specifications and software
The massive 6.44-inch display has a resolution of 1080×1920 pixels, which means a density of 342ppi. It also boasts of Corning Gorilla Glass 3 for protection. Xiaomi is marketing the display as one of the best features of the Mi Max 2, but there's also a big 5300mAh battery to talk about. At the India launch event, Xiaomi even bragged that the Mi Max 2's battery can last for up to 31 days with the phone in standby, which is similar to what HMD Global has claimed for the reboot of the legendary feature phone Nokia 3310 (Review).
Under the hood, the Mi Max 2 is powered by an octa-core Qualcomm Snapdragon 625, which has been a popular SoC for phones in this price segment. The Xiaomi Redmi Note 4 (Review), Moto G5 Plus(Review), and Lenovo P2 (Review) are some of the models we've tested that are powered by the same SoC. Unlike most Redmi smartphones, only one variant of the Xiaomi Mi Max 2 has been launched, and it features 4GB of RAM and 64GB storage.
The phone has a hybrid dual-SIM slot which might disappoint users who want to take advantage of the big screen with lots of movies and TV shows stored on a microSD card. Users have to sacrifice either a second SIM or a microSD card. The Mi Max 2 supports microSD cards of up to 128GB. If you create a Mi account, you'll get 5GB of cloud storage space. The phone sports a 12-megapixel rear camera with a Sony IMX386 sensor, f/2.2 aperture, and two-tone flash. There's also a 5-megapixel front camera with an f/2.0 aperture.
The Mi Max 2 runs on Android 7.1.1 Nougat, with Xiaomi's MIUI 8.5 skin on top. This makes it the only phone in the company's portfolio to currently run a stable MIUI ROM based on Nougat. Despite running a modern version of Android, we were slightly disappointed to see some features missing from the Mi Max 2.
We could not double-tap the Overview button to switch between the two most recent apps, and there were no changes to the Settings app or Quick Settings toggles. There was no split-screen multitasking which is a huge waste of the big screen. At launch, the company promised that this feature will be rolling out to the Mi Max 2 with an update very soon, and that it is already in beta. We did try a beta version of MIUI, and it worked flawlessly. In fact, split-screen multitasking was one of our favourite features of the Mi Max 2. We were able to run two apps simultaneously without any issues. The Chinese company is working on Nougat updates for models that are already in the market so we hope that the Mi Max 2 will also receive the full set of features.
MIUI's Quick Ball feature was also very useful as it allowed us to easily access shortcuts from any screen. The Mi Max 2 also has a special UI theme that offers access up to 25 apps or functions directly from the lock screen. You can download the special Mi Max 2 theme from the Themes app that comes preloaded on the phone. The One-Handed Mode came to our rescue a few times. This shrinks the display area to 4-inch, 4.5-inch, or 3.5-inch sizes for easy accessibility. All you have to to to enable this mode is swipe left or right across the capacitive buttons. There are also a few other software features – Reading Mode reduces the display's glare, Second Space lets users differentiate their personal and official accounts, and Dual Apps creates two instances of any app on the same device. The scrolling screenshot feature is also available.
Xiaomi Mi Max 2 performance
It was no surprise that the Xiaomi Mi Max 2 performed just as well as the Redmi Note 4, thanks to their similar specifications. We used the new Mi Max 2 for a week, and it handled multitasking with ease. Jumping from one app to another was as smooth as it could be. 4GB of RAM is sufficient for most tasks, and we found that there was up to 1.8GB free at any given point. The phone supports 4G with VoLTE, and call quality was decent. The main problem with taking calls was the size of this phone, because it covers most of the user's face, and it becomes tedious to hold over the duration of a long call.
The display is crisp and reproduces colours well. It has decent viewing angles and sunlight legibility. Images and text looked sharp despite the low pixel density. In our opinion, the Mi Max 2 has the best screen in Xiaomi's current India portfolio, considering that the Mi 5 is now over a year old. Graphics-heavy games like Asphalt 8 and Marvel: Contest of Champions ran smoothly. Despite long gaming sessions, we found that the Mi Max 2 didn't get too warm compared to the Redmi Note 4 and Moto G5 Plus.
In our Mi Max review, we had pointed out that stereo speakers would have been great, and it looks like the company has indeed acknowledged that complaint with its successor. The Mi Max 2 uses two speakers to offer stereo sound when used in landscape mode, and it produced some of the loudest sound we've ever heard coming out of a smartphone. There was noticeable distortion at high volume levels, but the Mi Max 2 still outperforms most phones. Audio quality is good through headphones as well.
We noticed that benchmark results were slightly higher than what we have seen from other Snapdragon 625 phones. The Mi Max 2 scored 68,067 in AnTuTu; 29,555 in Quadrant; 9,211 in 3DMark Ice Storm Extreme; and 27fps in GFXBench. The phone handled 1080p video files as well as FLAC audio files with ease. We had a good time watching TV shows and videos on the Mi Max 2 thanks to the large 6.44-inch screen. In terms of performance, the Mi Max 2 excels compared to phones in its price segment.
Xiaomi Mi Max 2 camera performance
The 12-megapixel rear camera uses a Sony IMX386 sensor with 1.25-micron pixels, and has an f/2.2 aperture. It does well enough in daytime but did not impress us in low light. Our sample photos showed very good colour rendition and sharpness under the right lighting conditions. Moreover, PDAF worked well in daylight too. However, in low light situations, the camera was more hit-or-miss. Autofocus was less accurate, colours seemed off, noise was quite apparent, and there was a major loss of detail. The HDR mode does well to improve dynamic range though you won't need it all the time.
Tap to see full-sized Xiaomi Mi Max 2 camera samples
The Mi Max 2 can record videos at 1080p and 4K quality which is a great feature. Video quality in general was good. The phone also supports time-lapse and slow-motion video modes. The default camera app is identical to the one we saw on the Redmi Note 4, and there are modes and filters that are accessible with one tap. The 5-megapixel front-facing camera takes good selfies, but again the quality fell below average in low light.
Xiaomi Mi Max 2 battery life
The Xiaomi Mi Max 2 has a large, non-removable 5300mAh battery which the company claims can deliver up to two days of life. In real-world usage, the phone doesn't disappoint with its battery performance as it easily lasted up to two entire days on a single charge, even with heavy usage.
We used the Mi Max 2 for roughly a week, and found that battery performance was good throughout this period. In our standard video loop test, the Mi Max 2 lasted for 23 hours and 30 minutes which is way more than what its predecessor achieved.
The Mi Max 2 also supports Qualcomm's Quick Charge 3.0 and parallel charging, which are both useful considering the battery size. During our review, it went from zero to 100 percent in around 100 minutes which is impressive.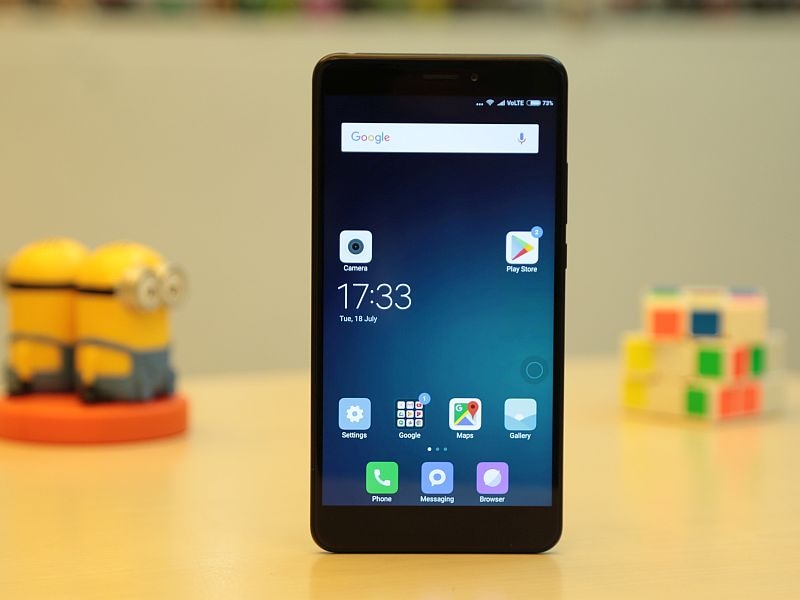 Xiaomi Mi Max 2 in pictures
Verdict
We like how Xiaomi has concentrated on things like display quality and battery life rather than other specifications with the Mi Max 2. Many would complain that Snapdragon 625 processor is now dated, but in our opinion, it's good enough for most tasks. Priced at Rs. 16,999, the Mi Max 2 offers a great package, and is targeted at users that like to watch videos, play games, and read books while on the go. The Mi Max 2 also looks better and is easier to handle than the original Mi Max. For many people, it could offer best features of a phone and a tablet in one device.
The overall design is impressive while performance smooth. Battery performance left us pleasantly surprised. On the other hand, the camera could have used improvement. There haven't been many good launches in the Rs. 15,000-20,000 price band of late, so we would recommend the Mi Max 2 to anyone looking for a great display and battery performance in a smartphone in this segment, if they don't mind its size.
Those looking for alternatives can go for the Lenovo Phab 2 Plus (Review), which offers a similar screen, or the Oppo F3 (Review), which is a decent package at its price. However, the Xiaomi Redmi Note 4(Review) and the Moto G5 Plus (Review) are more suitable for those who want a regular-sized phone.
For the latest tech news and reviews, follow Gadgets 360 on Twitter, Facebook, and subscribe to our YouTube channel.

Xiaomi Mi Max 2
Design
Display
Software
Performance
Battery life
Camera
Value for money
Good
Premium looks and solid build quality
Battery life is impressive
Overall performance is decent
Quick charging support
Bad
Too bulky for any pocket
Hybrid dual-SIM slot
Camera could have been better
Read detailed Xiaomi Mi Max 2 review
Also See
Xiaomi Mi Max (Gold, 32GB) – SOLD OUT – 

Xiaomi Mi Max (Gold, 32GB) – SOLD OUT

Xiaomi Mi Max (Silver, 32GB) – SOLD OUT – 
["Source-gadgets.ndtv"]