Xiaomi gathered a big crowd of onlookers when it unveiled the Redmi Pro and those gathered won't have to wait much longer. Initially the launch in China was scheduled for the 8th (next Monday), but it seems that it has been pulled up.
Promo images have surfaced with an earlier date – August 6, Saturday. Sales will start 10am local time. The Xiaomi Redmi Pro will be available only in eight cities first: Beijing, Shanghai, Nanjing, Jinan, Guangzhou, Chengdu, Chongqing, and Zhengzhou. That is if you want to shop in person, presumably online shopping will be more flexible.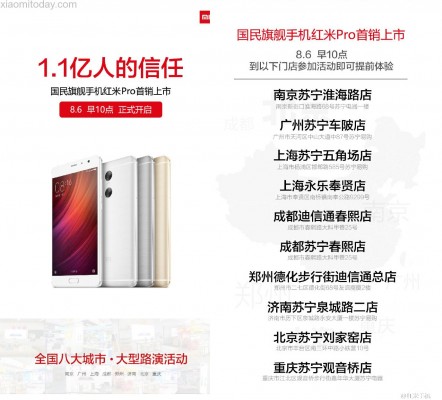 Xiaomi Redmi Pro going on sale August 6
More cities will be added later on. More countries too, perhaps, but we have no info on that.
The first 50 to buy a Pro will get prizes. The exact nature of the prizes isn't 100% clear, but it seems that a Xiaomi Mi Band 2 may be up for grabs.
[Source:- gsmarena]