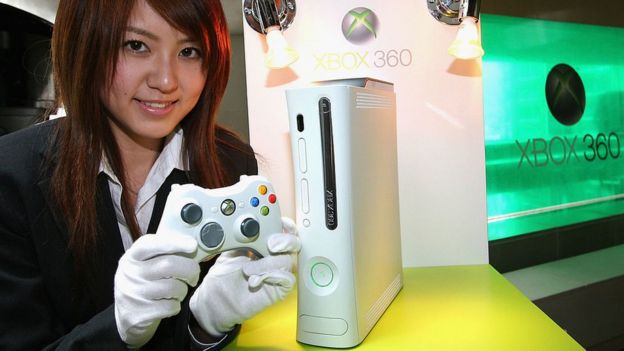 Microsoft has said it is to stop manufacturing the XBox 360 games console, 10 years after it launched.
In a blog post, Xbox boss Phil Spencer said gamers had completed more than 78 billion hours of play on the devices.
Last year the firm enabled Xbox 360 games to work on its successor, the Xbox One.
Mr Spencer said all remaining Xbox 360 consoles would still be sold, and the platform would continue to be supported for existing users.
"I am incredibly proud of all of the work and dedication that went into development of the Xbox 360 hardware, services and games portfolio over the last decade. And I'm grateful to the fans for their continued passion and support," he wrote.
"While we've had an amazing run, the realities of manufacturing a product over a decade old are starting to creep up on us."
Analysis

By Adam Rosser, Game On presenter, Radio 5 Live
I don't think anyone will see this as an unexpected move by Microsoft – you could almost say it's about time they pulled the plug.
There are a lot of very good games out there made for the XBox 360 but it is a 10-year-old device.
All these things have a moment in the sun and the Xbox 360 had longer than most – it was certainly around for a lot longer than the original Xbox.
It's not like the ZX Spectrum or the Commodore 64 – there is a nostalgia value to that but when you sit down with a 360 version of a current generation game you can see the difference… and nobody's nostalgic for graphics that are a bit less good.
In 20 years' time people will find an Xbox 360 under the stairs and say, 'Oh wow, I remember this, isn't it cute'. But the cute factor doesn't come into it yet – it's too soon.
[Source:- BBC]