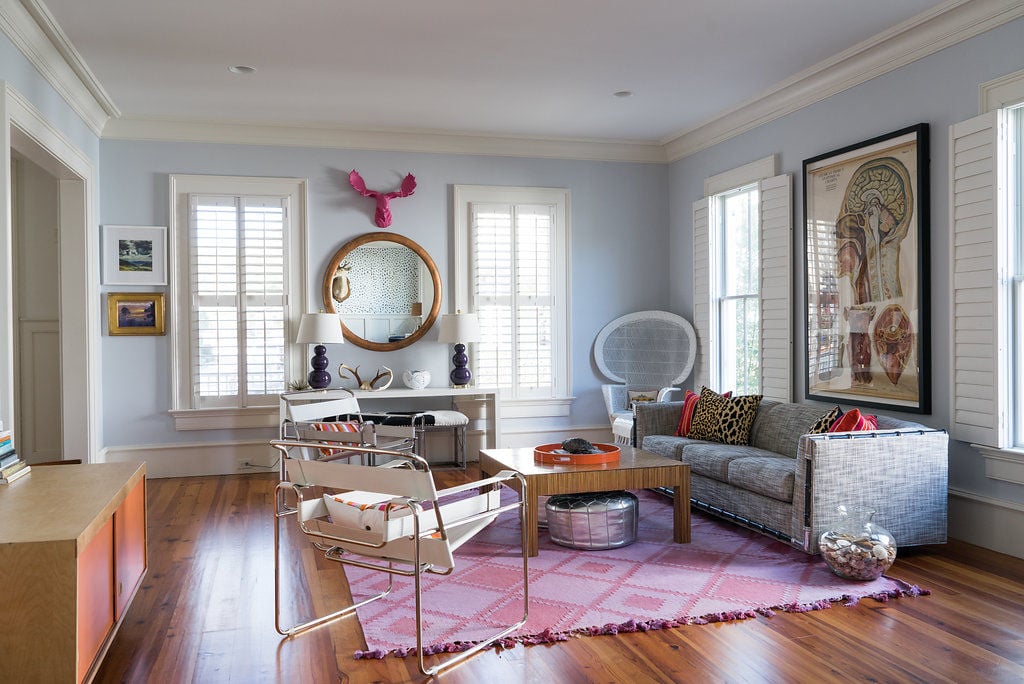 Before winding up as a blogger and opening a local shop (Cannonborough Collective), I spent some time as an interior decorator in the Charleston area. Most people I coached were all about celebrating the coastal charm around them, but some got a little lost amongst a plethora of anchors and seashells.
Caycee Hewitt and Sam Sidney immediately come to mind when I think of how to execute modern Lowcountry style. Caycee is a fellow Charleston blogger and sweet Southern lady, and Sam Sidney is a local artist who definitely knows how to have fun at home. Some of my favorite decor elements are shown throughout their homes. Though their individual styles are different, they both use some noteworthy styling tricks in both of their Charleston homes.
White is the new black
Gone are the days when white paint equals boring. You just can't have too much of this "color" in your home. It lends itself to a feeling of openness and calm ambiance. If you're brave like Caycee, a white or off-white couch looks great in any space. If that sounds a little scary, try updating your darker shades of wooden furniture with fresh coats of white chalk paint or lacquer.
Sam keeps window dressings to a minimum with white plantation shutters all around the house that let the rest of each room's colors pop. In our shop (which is nothing fancy), we get so many compliments on our white walls/fixtures/furniture. Keeping a mostly neutral palette gives you room to change out your pillows and other decorative accents as your taste changes.
Gold doesn't need to be gaudy
Gold is popping up in more and more homes, from fixtures to frames. What used to seem like an accent color designated for a fancier crowd is now a signature no matter what your style.
Caycee's gold decorative shelf accents and cabinet pulls are just enough of a fancy touch for everything to feel put together without seeming ornate.
Don't forget the lights
When it comes to taking your home decor to the next level, Charlestonians know to think outside the box from just your traditional ceiling fan/light combo. Both of these ladies have exciting and fun light fixtures that really complete their rooms. Sam got quirky with a little pom pom trim on her navy living room chandelier, and Caycee kept it classic with a chic gold fixture.
Take your shoes off and stay awhile
Living in the South is all about serving up a heaping helping of hospitality, so you never want your dwelling to feel stuffy or uninviting. You can let your home feel lived in without sacrificing style.
Caycee is a mom of two, but instead of trying to hide away all of the toys, she incorporates them into her decor by containing them in stylish baskets. Keeping children's bookswithin reach and adding fragile trinkets to higher shelves communicates that this is a space where the whole family can feel at home. To keep it casual in Sam's house, she went as far as to have a dual purpose ping pong table/dinner table. I bet you can guess what it gets used for the most!
["Source-postandcourier"]