Back in March a few leaks and rumors spoke about Samsung prepping a Galaxy S7 activesmartphone, which was supposedly on its way to AT&T. That made sense, since that particular carrier has offered both of Samsung's "Active" versions of its flagships in the past – we're talking about the S6 active and the S5 Active.
And today from Vietnam come some leaked images that confirm that hypothesis once more. The Galaxy S7 active is shown in the shots you can see below, as made obvious from the branding on its back. Also there is AT&T's logo sitting below the camera, so it's clear that there will be an S7 active and that it's headed to AT&T.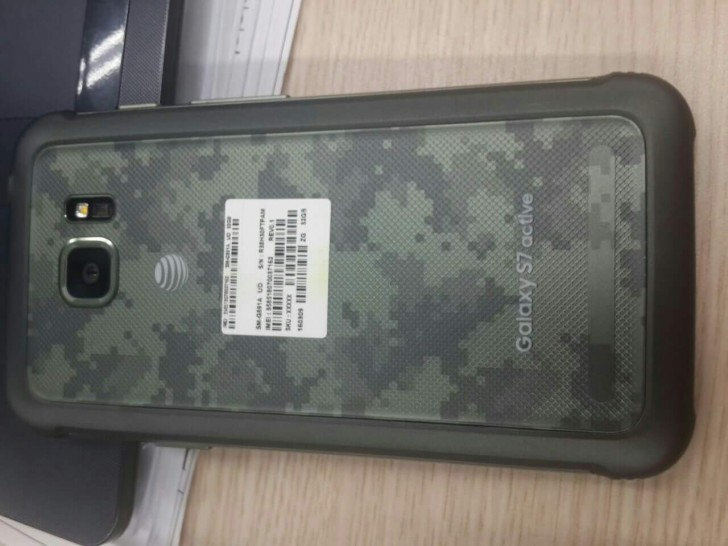 The label applied to the back of the phone confirms that its model number is SM-G891A, asrevealed in one past leak. The camo back cover follows in the footsteps of the one for the S6 active, and the overall design is pretty similar to that of the S7 active's predecessor.
Ruggedness is the main selling point of this handset, so we assume it will adhere to a Military Standard of toughness (probably 810G), alongside having an IP68 rating. Oddly, its center navigation button isn't marked (unlike the Recent Apps button on the left and the Back button on its right). This may mean that the center button will have a fingerprint sensor built-in, aside from functioning as a Home button. This would be a first for the Active series.
The Galaxy S7 active should borrow most (if not all) specs from the 'vanilla' S7. Thus expect to see it being powered by the Qualcomm Snapdragon 820 chipset, aided by 4GB of RAM. The battery may be bigger in the active model, however, if it emulates what's happened last year with the S6 line.