Yesterday Verizon started selling the Samsung Galaxy J3 (2016). And today Big Red's largest competitor has done the exact same thing, right on the schedule it announced back in April.
The phone manages to be $1.99 more expensive if bought from AT&T than if you'd grab one from Verizon, when comparing its full retail price at both carriers. That's $169.99 if you choose AT&T, and $168 at Big Red. However, Verizon is offering it with a prepaid plan for just $109.99, while AT&T is giving you the device installment plan option to use alongside a service agreement.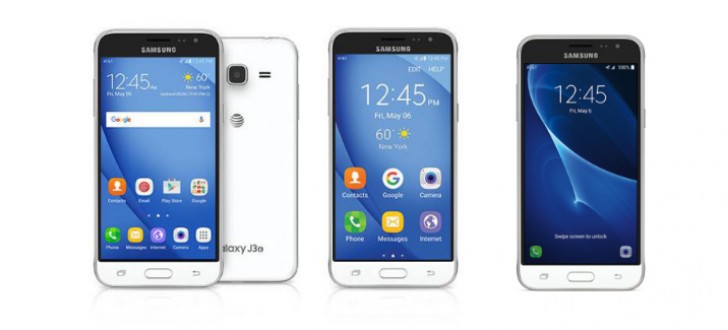 If you go this route, you pay nothing upfront, then followed by 30 monthly installments of $5.67. Or you can pick 24 monthly payments of $7.09, or 20 installments of $8.50.
The Galaxy J3 (2016) has a 5-inch 720p Super AMOLED touchscreen, a 5 MP rear camera, a 2 MP front-facing unit, the Samsung Exynos 3475 SoC with a 1.3 GHz quad-core CPU, 1.5GB of RAM, 16GB of expandable storage, 4G support, and a 2,600 mAh battery. It runs Android 6.0 Marshmallow.