Now that the vivo X7 has been announced, Oppo is taking steps to ensure its R9 can better compete with that device in terms of pricing. Despite looking incredibly similar on the outside, the two handsets aren't exactly identical when it comes to specs – but they aren't very different either.
What's more important is that the vivo X7 is priced at CNY 2,498 ($374, €336), and so far the Oppo R9 has been sold for CNY 2,799 ($420, €376), ever since March when it launched.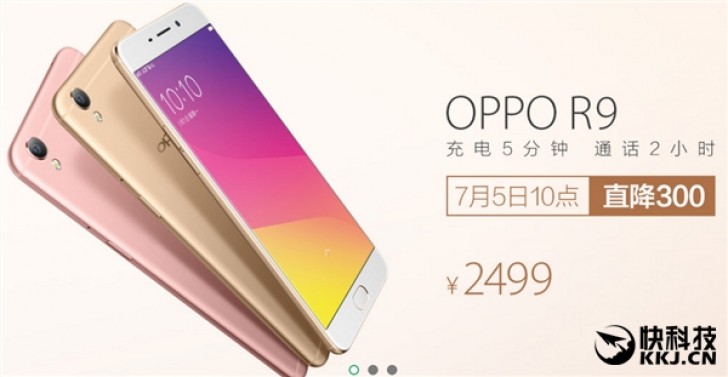 That will all change starting tomorrow, as the image above can attest. From July 5, the price of the Oppo R9 will be CNY 2,499, thus making it only CNY 1 more expensive than the vivo X7. We assume Oppo hopes this will help the R9 continue selling well even in the face of the competition from the X7. If that pans out remains to be seen.
Anyway, all of this rivalry between Oppo and vivo is a bit funny considering the fact that both brands are owned by the same company, namely BBK Electronics. So if one of them loses sales in favor of the other, in the end it's all the same for BBK.