If current rumors are to be believed, the next batch of Nexus devices will come courtesy of HTC and bear the codenames Marlin and Sailfish. The former has already been spotted in aGeekbench listing, which did reveal some of its alleged specs. Now its time for Sailish to get the leak treatment as well.
Luckily, this time around, the info comes from GFXBench, which is typically a lot more expansive in its hardware readout. And straight off the bat, the page seems to confirm one of the more outlandish aspects of the future device, namely that it will feature a 5-inch display.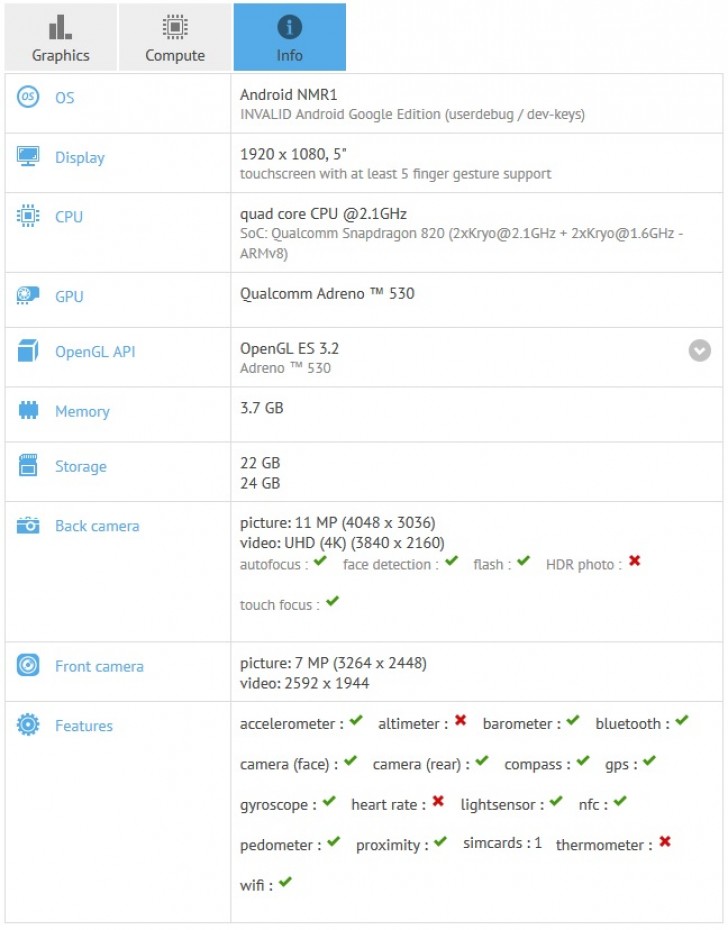 Said panel is listed at exactly 5 inches and with a resolution of 1080p, which doesn't mesh with push towards bigger screens, which can be felt in the Nexus family too. And if the second part of the original rumor pans out as well, that would make the Nexus Marlin the bigger device from the pair, at 5.5 inches.
As for the rest of the alleged specs on the Sailfish, they include a Qualcomm Snapdragon 820 SoC, 4GB of RAM and 32GB of storage. The reported camera setup consists of a 12MP main shooter and an 8MP front-facing one. And we can only expect that once the handset arrives, it will run Google's latest Android 7.0 Nougat out of the box.
[Source:- gsmarena]