Sony's been reevaluating its smartphone market strategy, namely in markets where Sony isn't really a shining star like the US.
Even though the Xperia X lineup was just launched this past month, there appears to be a new contender among the Xperia X models. Strangely, the model spotted on GFX Bench was "Sony F8331" which the benchmark app report shows to contain a Snapdragon 820 CPU, 3GB of RAM, a 5.1 inch screen, and of course Android 6.0.1 Marshmallow is running on the unidentified device.
There's also a 21MP rear facing camera and a 12MP front facing camera.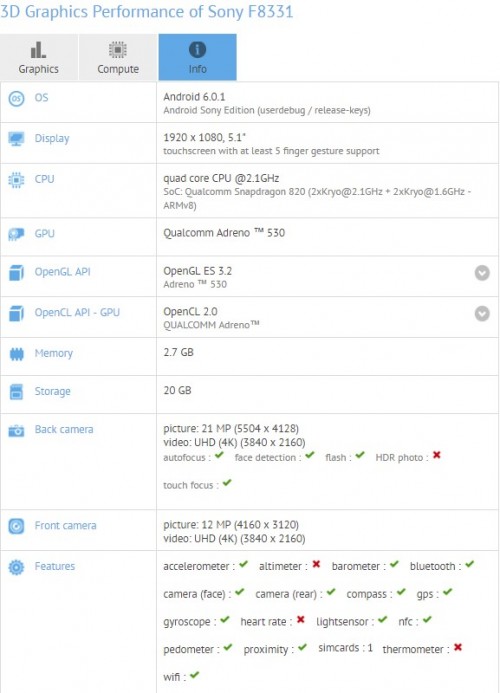 The current Xperia X model carries the number "F8131" for the standard model and "F8132 for the dual-SIM unlocked global version. Remember, the unconfirmed device's model number is "F8331" which is quite close to the other two models mentioned above.
The screen is also 0.1 inches larger than the Xperia X Performance. So there are a number of possible things going on: either someone got bored and decided to fake these benchmarks, or Sony is already building and developing a new Xperia X successor? It's not entirely impossible that this could be a new Sony device as before the Xperia, Sony had been releasing a new flagship every 8 or so months.
We are still rooting for Sony as we would really like to see them do well in all markets. Sony carried a harmony between software and hardware that I really admired. We really hope Sony figures it out, whatever it is.
[Source:- gsmarena]