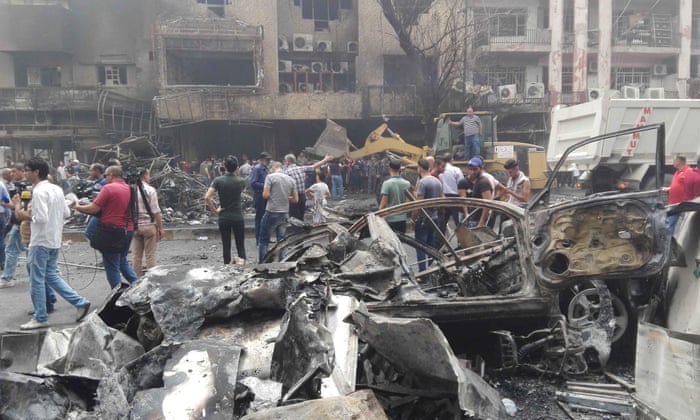 For the past nine years, Iraq's security forces have tried to stop car bombs with a British-made bomb detector wand that was long ago proven to be fake. A day after a car bomb killed at least 157 people in central Baghdad, the country's prime minister, Haidar al-Abadi, has demanded their withdrawal.
After the single deadliest attack in Iraq this year, Abadi also ordered a renewed corruption investigation into the sale of the devices from 2007-10, which cost Iraq more than £53m and netted the Somerset businessman James McCormickenormous profits, as well as a 10-year jail sentence for fraud.
Their withdrawal follows years of insistence by interior ministry officials, who bought the wands at vastly inflated fees, that they were effective in sensing odours from explosive components.
Near the scene of Sunday's bomb attack in the suburb of Karrada, which was claimed by Islamic State, Iraqis reacted with derision at the ban, which follows years of complaints from citizens and warnings by both the British government and US military that the wands have no scientific value.
"This should have happened a long time ago," said Sheikh Qadhim al-Sayyed, standing near the scorched remains of a shopping district in Karrada, just south of the Tigris River. "There isn't a person in the country who thinks they work. No one here is responsible for what they do. It should be an eye for an eye, a tooth for a tooth. Corruption is the greatest threat we face."
Nearby, three federal policemen stood in the shade. "They are fakes, fakes," said one officer, Sayyed Hamza. "They have been laughing at us by making us use them." While he welcomed Abadi's announcement, he said, it was "past due".
In a statement, the prime minister said: "All security forces must take away the handheld detectors from checkpoints and the (ministry of interior) must reopen the investigation for corruption in the contracts for these devices and follow all entities which participated in them."
Abadi has made an anti-corruption drive an essential plank of his leadership, but has so far been met with strong resistance from members of parliament and senior bureaucrats. The interior ministry, which was responsible for the procurement of most of the wands, had already shelved an earlier inquiry.
Some security officials were slow to respond to the order, still holding wands on Monday at approaches to the central city and along roads to the airport and the north. The reluctance to acknowledge them as useless was in part centred in having to acknowledge that there are few alternatives to keeping bombers away from Iraq's towns and cities.
"Sometimes it is better to pretend," said one senior interior ministry official. "To say that these don't work says that we don't have anything better. The people need some sort of reassurance."
There was little comfort, though, for those standing near the rubble of the most deadly explosion in Baghdad this year. Investigators taking samples from the wreckage suggested that napalm, or a variation of it, may have been used in the blast that ignited huge fires in three-level shopping complexes on either side of a road.
There was no crater at the scene of the explosion and damage to the buildings was mostly caused by fire, which forensic officials said was unusual for a bomb of this size.
"We have sent samples to 12 laboratories and some have come back positive for napalm, or a derivative of it," said a senior official from Iraq's chemical, biological, radiological and nuclear weapons unit. "If our suspicions are confirmed, this would be the first time they have done this and it would mark a new phase."
Crouched on a verge amid ash and soot, Sarfi Abdul Hassan, 73, a muezzin from a nearby Shia mosque, known as a Husseiniya, said his grandson had survived the inferno by hiding in a fridge. "He was calling us from inside, but there was chaos all around and it was hard to find him. We eventually got to him. He is safe, but he is still vomiting now.
He said: "I have lost two sons to car bombs. We need loyal men to protect us. Those who don't accept bribes and do accept responsibility for the nation, irrespective of their religion. Bring us some good men. Non-Muslims are fine."