A report from China reports of a new render of the Huawei P10 Plus. While we've already seen an alleged render of the P10 a week or so ago, we only got front render of the P10 Plus with a black finish. This black finish on the front didn't allow us to notice an extra sensor on the front of the phone, which could plausibly be an iris scanner, just like the Note7 had.
Given that the P10 has no rear-sensor and a physical home button, it's obvious that fingerprint scanner would move to the front. One confusing piece of news is the inclusion of a rear-mounted fingerprint sensor on the back of the P10 Plus render in addition to a physical home button. We don't see the point of having two fingerprint sensors, so maybe the P10 Plus' home button would simply be… a home button.
In addition to the above, the P10 Plus will have a curved screen much like the Huawei's Mate 9 Pro. But given the rumored size of the P10 Plus, it would be exactly very similar to the Mate 9 Pro with its 5.5-inch screen and curved display. The P10 Plus and Mate 9 Pro are likely to be market-dependent.
Lastly, the P10 Plus has a ring-flash that surrounds the laser-assist sensor for autofocus. This is the same ring-flash we saw in a previous leak of the Huawei P10 Plus in black.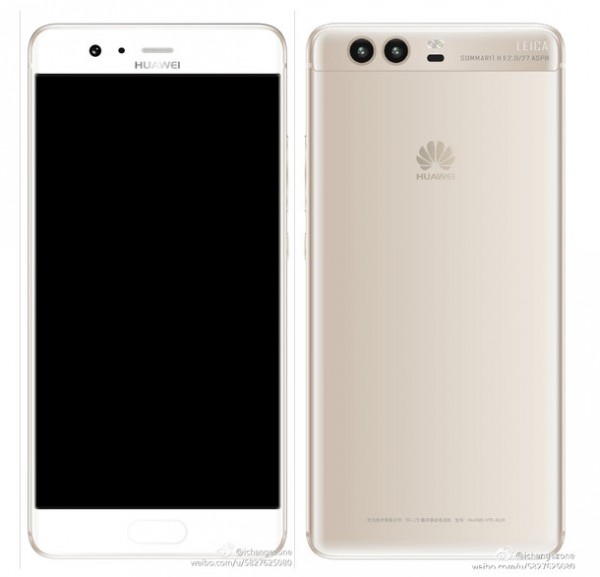 Alleged render of the Huawei P10
The source mentions the P10 would be powered by the HiSilicon Kirin 960 while the P10 Plus is said to carry a higher-clocked Kirin 965. The P10 is said to be available in 4GB+64GB / 6GB+128GB configurations while the P10 Plus could have 6GB+128GB / 8GB+256GB memory versions. Both variants would be expandable via microSD and run Android Nougat with (presumably) EMUI 5.0.
Rumored battery sizes for the P10 and P10 Plus are 3,100 mAh and 3,650 mAh, respectively. The same report also mentions a green and purple version we saw not too long ago.
Official pricing should be unveiled at MWC along with the smartphones themselves, though, the P10 is said to start at $699.
[Source:- gsmarena]