Deutsche Bank AG is giving Marcus Schenck, co-head of the newly combined investment bank and trading business, responsibility for overseeing clients in a reorganization that will see the bank focus on corporate customers, according to a copy of a memo seen by Bloomberg.
Schenck will also take charge of corporate finance, global capital markets and the institutional client group, while co-head Garth Ritchie will deal with products and processes and oversee operations including equities, fixed income and currencies, the email said. The bank is also creating a combined debt, equity and leveraged capital markets business within the investment bank.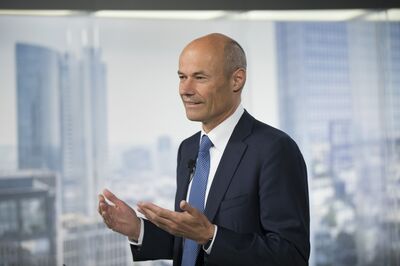 The two executives are tasked with striking a balance between stemming a loss of market share that accelerated last year and cutting 700 million euros ($742 million) of costs by 2018. That comes as the bank pivots away from hedge funds and other financial firms, pledging almost two-thirds of the unit's balance sheet for corporations. In 2011, institutional clients accounted for about twice as much revenue as corporate customers.
"Schenck is extending his grip within the organization," said Gildas Surry, who helps oversee about 1 billion euros of financial-sector debt at Axiom Alternative Investments in London, including the German lender's bonds. "He joined Deutsche Bank to pursue an ambitious agenda and today is another milestone in his ascent."
Organizing the businesses in this way, and separating sales and trading "may actually worsen" the managerial challenges that have dogged the lender for years, said Anthony Sanders, a professor of finance at George Mason University and a former Deutsche Bank research analyst.
"Deutsche's problems are related to the same problem that is hampering other large European banks: their massive bad debt load," Sanders said. This can't be solved by creating new divisions and co-chairs, he said. "With the fizz going out of trading revenues, this potential 'Game of Thrones' reorganization fails to solve the problem."
Troy Gravitt, a spokesman for the firm, declined to comment.
The Global Capital Markets division will be headed by Alexander von zur Muehlen and Mark Fedorcik, reporting from Frankfurt and New York, respectively, the email said. The new division will work in partnership with the bank's corporate finance and institutional client group and will "operate financially as a joint venture" between its corporate finance, equities and fixed income and currencies units, according to the email.
Fedorcik and von zur Muehlen will report to Schenck and Ritchie, who were co-authors of the email.
"It makes sense that Deutsche Bank is now working out the details of the new structure for the investment bank," said Piers Brown, an analyst at Macquarie Bank Ltd in London. "If you are buying Deutsche you may expect that they are trying to at least maintain market share in the investment bank and this is something Schenck will be measured against."
Deutsche Bank shares fluctuated, declining 0.8 percent as of 3:40 p.m. in Frankfurt to 15.15 euros, after earlier losing as much as 1.5 percent and gaining as much as 1.1 percent.
Cryan has said previous management teams made the bank too complex and inefficient by putting short-term earnings ahead of Deutsche Bank's long-term interests. He is now implementing long-term plans to overhaul the lender.
In April, the bank said it hired James von Moltke from Citigroup Inc. to replace Schenck as chief financial officer as he moves into his new role as co-head of investment banking and trading with Ritchie, an executive who came up through the equities business.
In the note to employees, Deutsche Bank also said that the corporate finance business will operate as one global business, run by existing regional heads. The bank will soon announce a new head for the division's corporate banking coverage operation for the Asia-Pacific region, according to the email.
Institutional Clients
The bank's institutional client group will be co-headed globally by Kenan Altunis and Stefan Hoops, who will report to Schenck and Ritchie, the email said.
Schenck and Ritchie also discussed the recent decision to create a corporate and investment banking hub, known as CIB Central and headed by Christiana Riley and Lawrence Shaw. The reorganization of the division support teams is intended to "reduce bureaucracy and complexity, which will achieve substantial cost savings in 2017," they wrote in the email.
"What's slightly disappointing is that it seems like the former Global Markets and the former Corporate Investment Banking units are still persisting below the surface and are being managed quite independently," said Daniel Regli, a MainFirst analyst with a neutral rating on the stock.
After the reorganization, which will take effect on July 1, the corporate and investment banking division will comprise six areas, the email said:
Corporate Finance, including Corporate Banking Coverage
Global Capital Markets
Global Transaction Banking
Equities
Fixed Income & Currencies
Institutional Client Group
["Source-bloomberg"]