Apple announced the latest edition of its modile platform today. iOS 10 claims it's the biggest iOS release since its inception and here are the 10 new major features Apple accented on during its presentation:
1. User interface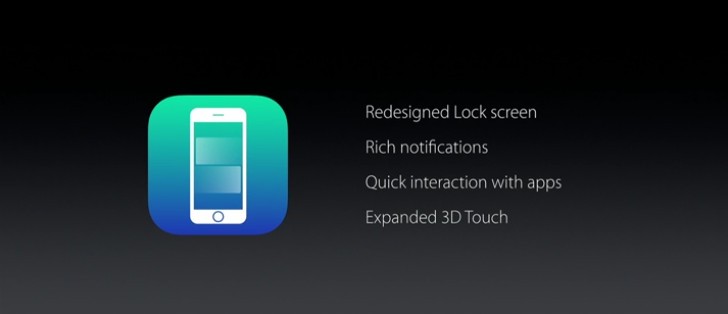 Apple has redesigned the lockscreen. It now supports pick up to wake and has an easier way to access the camera – just swipe left. If you swipe right you'll find your widget page. Just when Android mostly ditched the widgets on the lockscreen Apple is bringing them back.
The notification area has been redesigned with new bubble-like notifications and widgets. The Control Center is now comprised of two panes – one with toggles and one with music controls. Its design also features bubbles. There is a third Control Center Tab if you are using the new Home app – shortcuts for your home accessories.
Apple has given the 3D Touch a lot more power – you can now glimpse more information from notification or even apps on the homescreen, by using 3D Touch. And if you like what you are seeing, you can snap it as a widget on your brand new Today page (the leftmost homescreen pane).
2. Siri
Siri got its own update with new features. But it's biggest change is the opening Siri to developers. Now it can send messages via non-Apple message clients, it can reserve Uber cars, among others.
It can even search photos through various third-party photo apps, it can make VoIP calls, or send payments.
3. QuickType keyboard
The keyboard has been enhanced with Siri's intelligence and it can now sense what you want to say or answer. It can read through your messages and suggest creating events, share you location, remember your recent addresses, and the best part is it now supports multilingual typing.
4. Photos
The Photos app has learned a few new tricks, which are quite familiar as they have been on Android for years. The app can now show your photos on a map, you sort them by the faces of your friends.
A cool new feature is the AI sorting in Memories, which scans your photos and sorts them in automatic albums by landmarks, animals, people, topics, and various other criteria.
5. Maps
The Maps app is getting a boost with Map layers, smarter and proactive assistance as well. The Maps also supports extensions – it can help you throughout your day by offering the fastest routes by following all the traffic around you and suggesting places nearby. It can also make reservations.
Maps in CarPlay also has some new features like expanding the turn-by-turn navigation to your dashboard display.
6. Apple Music
Apple Music got a new refined interface, which makes easier to find the music you like and organize it.
7. News
The same goes for News – it has a brand new interface. It can also create subtopics for you – i.e. if you like to read about Euro 2016, the News app will automatically create a subcategory for Euro 2016.
The News app supports subscriptions, so you can get all free and paid content in one place – the News app. Breaking News notification on the homescreen are also a novelty brought by the update.
8. Home app with even more powerful Home Kit
Apple wants you to control everything in your home via the new Home app. It supports virtually every popular smart electronic accessory and you can control them all from your iPhone – lamps, bulbs, doors and locks, cameras, air conditioners, fans, outlets, humidifiers, doorbells, among many others.
The Home app supports 3D Touch, which provides scrubbers for, say, volume up/down, or launches a pop-up with live feed to a camera.
Finally, the Control Center now has a third tab with toggles for your most used smart accessories.
9. Phone
Apple has updated the Phone app with some new features. All third-party VoIP apps can now use the same calling screen as your default Phone app. Skype, Viber or other – they all get full-screen notification with a photo, some options and a big answering slider.
In the phonebook you can now choose with what app you want to call a specific number, which is nice.
The Voice Mail now can show you a full transcription of the message if you like. And it can now detect if a message from an unknown number is a spam or not even before it gets into your voicemail.
10. Messages
Finally, the Messages app has been enhanced. First – it supports live GIF and video playback right within the app. Any multimedia that could be played – you can play it within the messaging thread.
Next you get quick access to your photos and live camera feed without leaving the app. The interface looks quite nice and lots of people will appreciate it.
The Emojis are now 3x bigger and you can replace words with Emojis by just tapping on them.
The Bubble Effects we found quite captivating. You can apply different effects to your iMessages, you can even opt for scratch to reveal. There are similar effects available for the full messaging screen (such as fireworks).
The Messages app now supports handwritten messages, too. Digital Touch message option is available as well. You bet stickers are also coming with the new app.
The Messages app is now open to developers, too, so you can expect various mini iMessages apps to pop-up in the App Store and enhance your experience.
And the rest
The iOS 10 has a few more features added to other system apps. The Notes now supports collaboration between different contributors.
The Mail supports conversation view.
The Live Photos are now digitally stabilized and you can edit them if you like.
Finally, the Safari on the iPad gets spiltscreen view.
Privacy
Finally Apple has taken steps to enhance privacy – the new iOS 10 has end-to-end encryption, all intelligence and suggestions are happening on-device – there is nothing in the cloud or Apple's servers, there is no user profiling, and all privacy data is not shared between apps.
Release
The iOS 10 will be available to any iPhone 5 or later, iPad 4 or later, iPad mini 2 or later, and iPod Touch 6 or later, for free this fall. An open beta will kick off in July, while the developers will get a preview right away.