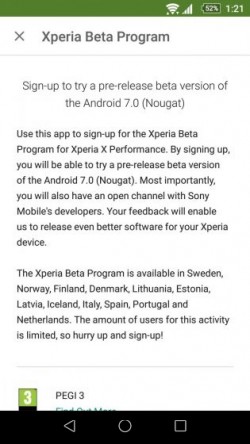 Sony's Xperia Beta Program died last month, only to get revived now. This time around only one device can participate – the Xperia X Performance. But if you do own one of those and live in one of the regions mentioned below, you might be in for a treat. A Nougat treat, that is.
Yes, you can currently sign up to beta test Sony's first build of Android 7.0 Nougat for its flagship smartphone. To do that, you have to be in Sweden, Norway, Finland, Denmark, Lithuania, Estonia, Latvia, Iceland, Italy, Spain, Portugal, or the Netherlands. If you are, then head on over to the Source link below and sign up.
If you're one of the lucky ones to be picked to enter the Beta Program, your Xperia X Performance will then receive an update notification for the beta build whenever Sony starts rolling it out. Do however note that limited spots are available, so you need to hurry with that sign-up if you're interested.
In the past, Sony put out multiple beta releases of a new Android version before rolling out the final update, so the same may apply here. And the usual precautions also apply – this being beta software you may see (many) bugs and strange behavior. So if possible don't attempt this on your main device, unless you just love living on the bleeding edge of things.
[Source:- gsmarena]