Now that the Samsung Galaxy Note7 is official and the craze is dying down, at least on the rumor front that is, leakststers and tipsters have naturally refocused all their attention to Apple and its upcoming iPhone lineup.
And now that September is drawing ever closer, we seem to be somewhat past renders and on to dummy models and potentially even working prototypes out in the open.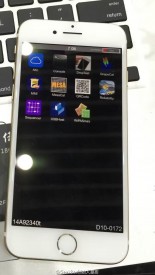 Alleged iPhone 7
The latest such clip seems to feature a working iPhone 7 prototype. Although not "working" in the typical iOS sense, the unit does seem to be loaded with a hardware testing suite. Interactions with it do appear believable enough, but you should still take it with a grain of salt. Why, you may ask? Well, judging by the sheer amount of leaks and renders of the alleged new design of the iPhone 7 that are already out there, less-honorable manufacturers out of China have already had plenty of time to out fake devices based on said exterior design. We experienced this first hand back in 2014 in the wake of the iPhone 6 announcement, when we spotted an almost perfect Android-powered clone on the streets of Shenzhen.
To further illustrate the point, the iPhone 7 also made sort of an appearance on YouTube today on the quite popular Unbox Therapy channel. The video features what could possibly be a scale-accurate dummy model of the alleged iPhone 7 Pro (note the POGO pins on the back). It is a curious watch for the extravagant blue color if nothing else, but the takeaway is that you can expect an influx of more and more convincing fakes in the weeks to come.
As always, we'll let you be the judge on this one. Feel free to share your thoughts in the comment section.
[Source:- gsmarena]