The Redmi series is one of the most attractive lineups on the Android market lately. Combining great pricing with good performance and design, they are a really tempting offer for anyone who's actually able to get them.
The Redmi 2 was awarded the best smartphone under $100 at the last MWC, and it was indeed a huge success on the market.
The Redmi 3 has already spawned into three different flavors – the original Redmi 3 with Snapdragon 616 chipset with 2GB RAM and 16GB storage; the Redmi 3 Pro with 3GB RAM, 32GB storage, and fingerprint sensor; and the new Redmi 3s with Snapdragon 430 chip and keeping the 3GB RAM option and fingerprint scanner.
It seems Xiaomi is keen on keeping the Redmi series as attractive as possible with the upcoming Redmi 4 model. A leaked image of devices utilizing the MediaTek's Helio X20 chipset with a deca-core processor shows the Redmi 4 at the bottom.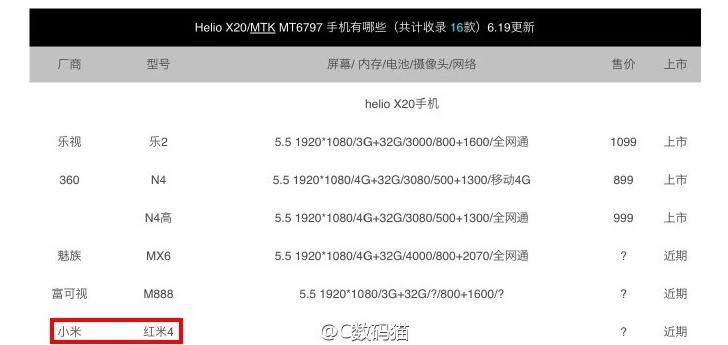 There are no other details, but if we are to believe the list and follow the Redmi history, the phone will be most probably be made of metal and come with a mid-sized (5″ or so) display.
The Redmi 4 won't premiere until next year, but Xiaomi is most probably drafting the device already, so we are not surprised by the alleged leak. We'll keep you updated with the latest Redmi 4 leaks for sure.