Having announced MIUI 8 in China back in May, the company has now announced the global version alongside the Mi Max at an event in India. The global version has all the features of the Chinese version that we saw before, but Xiaomi also announced some new features at the event today.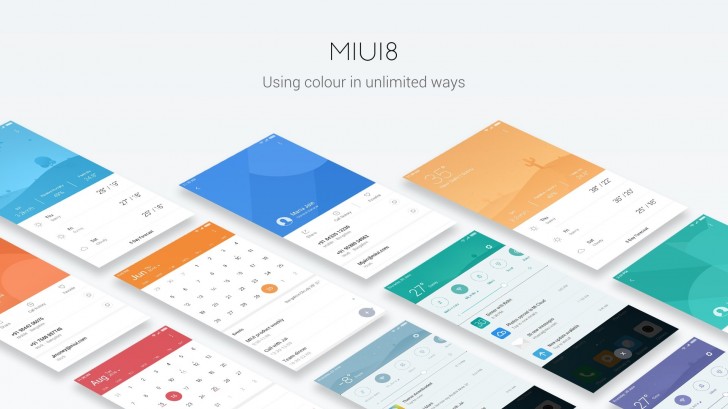 First off, we have seen the visual changes that are coming in this version. The notification drawer sees the biggest change, with a consolidated list and a weather panel at the top that changes color and animation according to the weather. Xiaomi has also incorporated the color changing status bar and animations in other apps across the UI.
The OS is also smarter now. The scrolling screenshot feature lets you take a screenshot of an entire page by scrolling and combining multiple images into one long screenshot that you can then crop to your liking. The Quick Ball feature puts a circle on the side of the display that houses quick shortcuts to various functions such as back, app switcher, or shortcuts to apps that you can customize.
MIUI 8 also added support for Dual Apps and dual spaces. Dual Apps allows you to have two instances of the same app on your device, so you can, for example, have two WhatsApp accounts on the same phone, one for each SIM, something you couldn't do before.
You can have two instances of any app. Dual spaces lets you have two different workspaces on your device, each with its own set of apps, customizations, and image gallery, and you can enter a custom passcode on the lockscreen to enter either of the space. This will be especially handy on tablets that get shared between people.
The Caller ID feature will now show you who is calling, and also has contact details of popular businesses so you can call them even if you don't know their numbers. This also works in messages, which now identifies contacts with unknown numbers and if it's a message from a business, it shows a more user friendly brand name instead of an indecipherable string of letters.
MIUI 8 will be available on the Mi 5, Mi Max, Mi Note, Mi 4i, Mi 4, Mi 3, Mi 2, Redmi Note 3, Redmi Note 2, Redmi Note Prime, Redmi Note, Redmi 2 Prime, Redmi 2, and Redmi 1s.
The public beta will be released on July 11 for these devices and the stable version will be released on August 16.