At its annual WorldWide Developer Conference today, Apple has officially unveiled watchOS 3. This will be the next iteration of the software that powers the company's first wearable, theApple Watch.
watchOS 3 will finally speed up the app launching process. This is possible because watchOS 3 keeps your favorite apps in memory and background updates are enabled. A new dock is where you can put your favorite apps.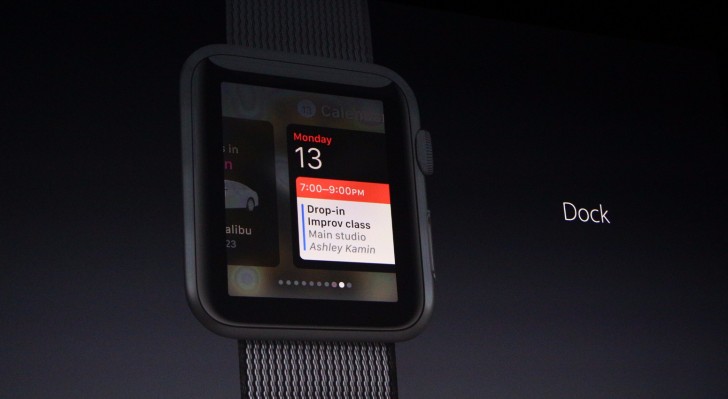 Control Center has made it to the Apple Watch too, and you can get to it by swiping up from the bottom of its screen. Replying to messages has gotten easier, since smart replies are immediately accessible when you scroll down while viewing a message. A new way to respond is Scribble, which converts your on-screen finger swipes into text.
Switching watch faces is now done with a swipe. There's a new Activity watch face which, as its name implies, focuses on your activity throughout the day. Furthermore, activity rings can appear overlaid onto another watch face too. And you can launch workouts straight from the watch face.
SOS on the Watch is enabled when you press and hold the side button. It calls 911, which works if the wearable is connected to a phone or to Wi-Fi. After calling 911, it notifies the people you've set as emergency contacts, giving them your location. And finally, it shows your medical ID.
Activity Sharing allows you to share your workout data with family and friends. To see data that's been shared with you, just swipe to the right from your own activity rings. Activity tracking is now better suited for wheelchair users.
Apple Pay works in third-party apps, which now additionally get background access to the gyroscope and heart-rate sensor. This means apps can track your workouts even in the background.
watchOS 3 will be available as a developer preview today, and it will be out for consumers at some point in the fall as a free upgrade.