A new device made by Huawei has just gone through China's telecommunications equipment certification or TENAA. Just under 24 hours ago, an invitation to a July 14 event to be held in China, has been spotted and we didn't have much information regarding the hardware of the device in question.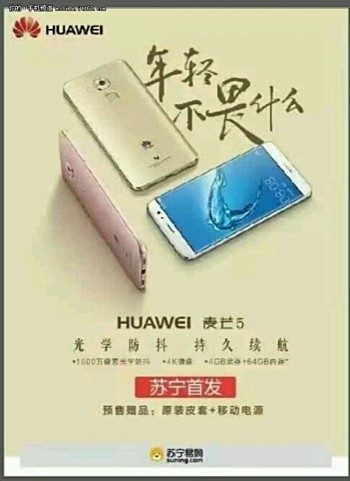 Well that's all changed because the TENAA has revealed all the major specs about the handset and confirms earlier reports about camera specs, RAM and storage, and CPU.
For starters the Huawei Maimang 5 will have a full-HD 5.5 inch display which is powered by a Snapdragon 652 running 8 cores clocked at 2.0GHz paired with either 3GB or 4GB (surely to depend on the internal storage configuration which will be available in 16GB/32GB/64GB all expandable via microSD card up to 128GB and runs Android 6.0 Marshmallow. Only the 64GB version will come with the full 4GB of RAM.
Camera specs are 16MP Sony sensor on the rear and an 8MP front facing camera, confirming earlier reports. Various LTE bands will be available to use around the world and the device is powered by a generous 3,270mAh battery.
The device looks to be like a smaller version of the 6 inch phablet Mate 8 and based on the invite, "not afraid of being young" which suggests the device is targeted at the younger crowd.
Pricing will be around 2,000 yuan (or $300) and will come in three colors: silver, pink rose, and gold. Everything will be revealed once July 14 rolls around.
[Source:- gsmarena]