So much for "drill, baby, drill."
The number of active oil and natural gas rigs in the U.S. has plunged to the lowest level on record going back to 1949, according to a Baker Hughes report released on Friday.
It's a reflection of the dramatic downturn in the U.S. energy industry caused by excess supply. Last month, oil prices plunged to a 13-year low of $26 a barrel, even though they have recentlybounced back to $39. Natural gas prices remain near 17-year lows.
Baker Hughes said there were just 480 rigs drilling for oil and natural gas last week, down by a stunning 57% from the year before. The previous low was set in 1999.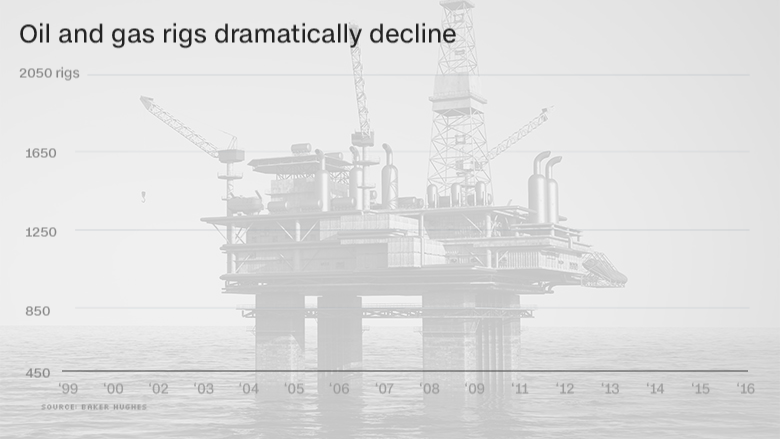 Oil rigs have been shutting down at warp speed in recent months. Just last week, Baker Hughes said the rig count fell by six to 386, the lowest since 2009.
The rig count topped out at 2,026 back in November 2011 when oil prices were comfortably sitting near $100 a barrel.
Drilling has gone dark at many U.S. shale fields because they require higher prices to turn a profit.
Even though U.S. oil rig counts have been falling sharply since late 2014, actual production has been surprisingly resilient. That's because oil companies have been getting more out of existing fields and are focusing on their most economical projects. Domestic production has also been boosted by strong output from deepwater projects in the Gulf of Mexico.
The U.S. pumped 9.26 million barrels of oil in December, down 2% from the year before and 4.5% from the April 2015 peak.
[Source:- CNN]