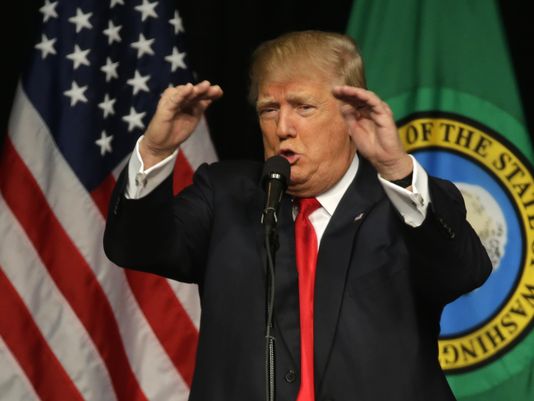 Donald Trump plowed another $7.5 million into his bid for the presidency last month as he barreled toward to his likely general-election confrontation with a well-funded Hillary Clinton, new campaign reports show.
Trump's personal loan in April brings to $43.8 million the amount the New York real-estate developer has spent on his unorthodox campaign, which has been fueled more by his nonstop television appearances, enormous rallies and relentless tweeting than by traditional political advertising.
Trump's money accounts for more than three-fourths of the nearly $57 million the political novice spent to dispatch his 16 Republican rivals before emerging as the GOP's presumptive nominee after winning Indiana's May 3 primary.
His likely Democratic rival has raised $213 million for her protracted primary fight with Vermont Sen. Bernie Sanders. At the start of May, however, Clinton's campaign and super PAC had built a combined stockpile of nearly $77 million in available cash, chunks of which will be used to savage Trump in the months ahead.Clinton also has big advantage in infrastructure, the newly filed campaign reports show. For instance, she already had a staff of more than 730 at the end of April, 10 times the number of people on Trump's payroll.
Trump, who has said he needs to collect about $1 billion between now and Election Day, is racing to build a more traditional fundraising operation.
In recent days, his campaign finalized a joint fundraising agreement with theRepublicanNational Committee that will allow individual donors to write six-figure checks to back his campaign, the RNC and 11 state parties. He is scheduled to hold his first fundraising event Wednesday at the Los Angeles home of Tom Barrack, a private-equity real-estate investor who endorsed Trump in February.
Tickets start at $25,000, an invitation obtained by The Los Angeles Times shows.
Super PACs, which can raise unlimited amounts but are barred from coordinating directly with campaigns, also have cropped up to support his candidacy.
Energy magnate T. Boone Pickens is slated to hold a fundraiser in June for one pro-Trump super PAC, Great America PAC, that's working to become the leading outside vehicle backing his candidacy. Its strategists this week released a list of wealthy figures who have pledged to back the committee, including Minnesota billionaireStanley Hubbard and actress Stacey Dash.William Kunkler, a Chicago private-equity executive who raised money for Romney in 2012 and for Jeb Bush's unsuccessful presidential bid this year, said he was recently approached by the Trump campaign about helping raise funds. His response: "Never."
"He's not fit to be commander in chief or head of state," said Kunkler, who added he plans to write in Romney's name on the November ballot.
Trump has lots of catching up to do.
The nearly $57 million he spent to wrap up the nomination is well short of what previous nominees have raised and spent at this point in the race, federal records show.
President Obama, who had no primary opponent, had spent $109 million on his re-election campaign at this stage of the 2012 campaign, and Romney was at nearly $91 million, according to Federal Election Commission records.
In addition, Romney started running TV ads focused on the general election on May 19, 2012. That anniversary passed Thursday with no Trump-sponsored commercials on the air, said Elizabeth Wilner, a senior vice president at Kantar Media, who tracks political advertising.
The pro-Clinton super PAC, meanwhile, unleashed $6 million in commercials against Trump this week in four states crucial to winning the presidency. One ad used Trump's disparaging comments about women to paint him as unfit for the White House. PAC officials say they plan to pummel Trump on the air until Election Day.The reality TV star, however, is running a presidential campaign like no other.
He often calls into TV shows rather than appearing in the studio, helping him squeeze in multiple interviews in a single day. He has more than 8.3 million followers on Twitter alone.
Trump took to Twitter on Friday night as campaign filings rolled in to complain about the advertising barrage against him, saying Clinton is "spending tremendous amounts of Wall Street money on false ads against me."
Trump "could win the presidency spending less on television advertising than any other modern-day nominee," Kantar's Wilner said. But she said he can't abandon the advertising "battlefield" entirely.
"He's still about to get hit with $500 million in TV advertising," she said, "and you can't tweet and control-room call your way out of that."