Back in December an image leaked that was purported to be of the next-gen Moto X. It didn't look very credible, being outed so far in advance of the phone's unveiling, but a subsequent leak from just a few hours ago has confirmed the design of the next Moto flagship, which will come with a full metal jacket.
Now a new report comes to shed some light on the specs. First off, consider this – the phones depicted in the renders you can see below aren't the same handset in two different color versions. In fact, they're two different smartphones. And both will carry Moto X branding when they launch (possibly on June 9).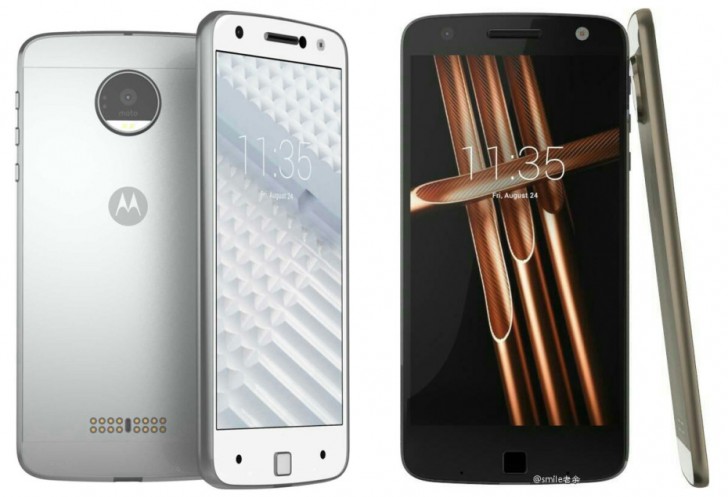 The one to the left is codenamed Vertex, while the one on the right is codenamed Vector Thin. Let's start with the latter, since this is going to come with the true flagship specs (so it's the successor to the Moto X Style from last year).
As its name implies, this will be insanely thin. Just how thin, you wonder? 5.2mm. It will sport a 5.5-inch QHD AMOLED touchscreen, Qualcomm's Snapdragon 820 chipset (though with a slightly underclocked CPU, going up to 2GHz), 3 or 4GB of RAM, 32GB of storage, a 13 MP rear camera with laser autofocus and OIS, and a 2,600 mAh battery. That capacity is obviously a consequence of the phone's slimness.
On the other hand, the Vertex might be the successor to the Moto X Play from 2015. It reportedly has a 5.5-inch 1080p AMOLED touchscreen, Qualcomm's Snapdragon 625 SoC (yet apparently with an overclocked octa-core Cortex-A53 CPU, going up to 2.4 GHz from the stock 2 GHz), either 2GB of RAM and 16GB of storage or 3GB/32GB, a 16 MP main camera with laser and phase detection autofocus, and a beefy 3,500 mAh battery. If you think this model will turn out to be thicker than the Vector Thin, well, you're right, but not by much – the Vertex will be 7mm thick, which is still less than a lot of its competitors.
Both handsets will come with a modular system of adding accessories in the form of magnetically-connecting backplates. Those pins on the bottom side of their backs are there to ensure communication with these accessories which Motorola is calling "Amps".
At launch it's said that you'll be able to find a few of these Amps: stereo speakers, a battery pack, a camera grip with a flash and optical zoom, a pico projector, and a rugged cover with a wide-angle lens attachment. All of these will be made by Motorola, but third parties are going to be offering their own Amps if it all goes well. Furthermore, each Moto X (2016) phone will ship with a simple colored backplate Amp, presumably to showcase the technology to their buyers.
So, with an Amp or another attached, that hugely protruding camera on the back of either device will clearly not be a problem anymore – sitting flush when such an accessory is there.