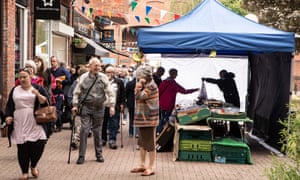 Without much fuss or fanfare, but, happily, with plenty of shoppers, Salisbury quietly reopened its central shopping centre on Saturday, almost three months after it became the site of an international incident.
The Maltings, which connects the coach park to the city centre, has been off-limits to the public and shielded by safety cordons and tents since the former spy Sergei Skripal and his daughter Yulia were found slumped on one of its park benches after being poisoned. Market traders were moved behind the shopping precinct by Wiltshire county council while the decontamination operation was under way. High street staples including Superdrug, Greggs and Robert Dyas were simply forced to close until further notice.
"Another week and I don't know what we would have done," said Henry, – "Call me the Cockle Man" – who runs a seafood stall from the Maltings three days a week. "It was so quiet where we were moved to, there was no footfall – we had to cut down to just doing Saturdays."
Relief for businesses in the area, which have suffered an estimated 80% drop in takings, has come from the council's recovery programme and Salisbury's Business Improvement District association.
"It's good to be back," said Henry. "We weren't sure what today would be like – whether it would be a mad day like it is, or absolutely dead because people were still wary of coming through."
For Sandra, a childcare worker who has lived and worked in Salisbury for five years, "it has been very difficult". She motioned towards the Zizzi restaurant where it is thought the Skripals were poisoned, and which remains closed, behind optimistic hoardings encouraging tourists to "Be inspired … shop, explore, discover: it's all here in Salisbury!"
"They blocked this way and routes were diverted and you had to go the far way round, you couldn't cut through.." She was relieved things were getting back to normal. "At the beginning I was scared, they were asking people to take their clothes and throw them away or wash them and I was frightened. But the council has been very good."
The cathedral city of Salisbury, which has a population of 46,000, has a mix of tea shops and pubs among the familiar names of Tiger, Costa Coffee and a Shoe Zone. But tourism accounts for a major part of the local economy and, according to VisitWiltshire, provides jobs for up to 10% of the city's workforce; three years ago, Lonely Planet named Salisbury as one of its top 10 must-see cities in the world.
"It's been odd to watch [the city] in the news," said Dave Howell, a local geophysicist who had stopped with his daughter by the park in the Maltings. "I go to a lot of conferences for work and usually you have to describe where Salisbury is because no one has any idea and now it's 'Ooh, novichok!'
"I had one person physically step back from me and say: 'Oh … Are you all right?' and I said 'Of course, I'm fine thanks!" Howell laughed. The patch of grass next to him had been resurfaced in the spot where the noxious bench was removed, with a small sign asking visitors to stay off the grass "to allow the turf to establish".
"For locals there was a lot of confusion," he said. "Why here? It's a not a place where anything generally tends to happen. And then there was fear about the impact on the town – because people did stay away."
The city suffered a significant drop in visitors following the poisoning in March, which led to the prime minister pledging a £2.5m recovery package for the city. "But the council offering free parking and the weather has helped," said Howell, confident that Salisbury was getting back into its swing.
Salisbury residents Katy and Alex were enjoying their first picnic in the park together for months. "We made a point of coming here today," said Katy, a programmer. "We've just got married and were on honeymoon for three and a half weeks in Japan, so we just hoping it would be back to normal when we got back."
The couple's April wedding was moved from the register office, where the council took up residence after its offices were being cleaned, to "an upgraded room which had two windows looking on to a lovely lawn". But just before the big day, a huge tent to house cleaning equipment was erected on the lawn. "We had to move everything round, not have pictures taken where we wanted," said Alex, "but obviously we're very aware businesses suffered here and it was the never really knowing how long it was going to take – weeks or months."
They agreed a sense of normality, was being restored. "The initial excitement has worn off," said Katy, "we were bored it of it. We just want things to move on."
Source:-theguardian.