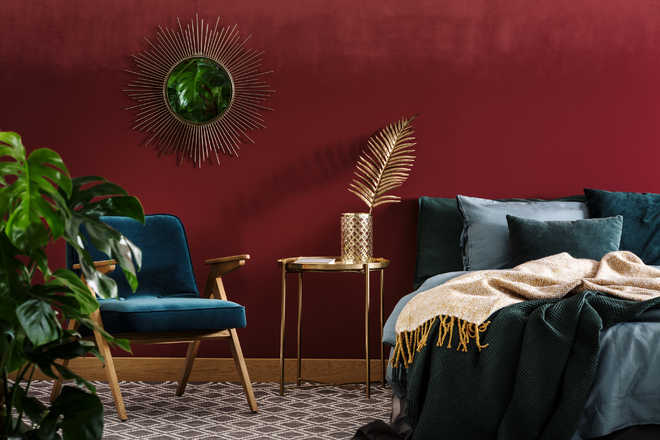 Rashmi Gopal Rao
The start of a new year invariably tosses up new trends and revives some old ones. 2019 is no different. Forecasts for fashion, travel and food for the year have been made and we are counting them to keep pace with what's latest. Decor too features on the list. Here is a sneak peak into what is going to be in when it comes to interiors and a guide to little changes that could be made.
The 'wise' furniture
Given the shrinking size of urban spaces and the emphasis on smart living, it is no surprise that multifunctional spaces and furniture will be a popular trend.  "People will gravitate towards furniture that is high on utility. Especially urban youth that resides in apartments will prefer the 'new' furniture to its bulky counterpart. Space is at a premium now and each inch of floor should be put to use wisely," says Basob Majumdar, VP-Design, HomeLane.com.
Sofa-cum-beds, tables that fold away into the walls, and spaces that transform from living area to resting spots, there is a lot that interior designers have to deliver.  "A lot of importance will be given to small-space designs. For example, how a single room apartment can be beautifully done up to accommodate living, working and sleeping areas," says Basob.
Functionality is important, but that doesn't render style and aesthetics dispensable. Vintage and wood finish are here to stay. Bid adieu to boxy sectionals and say hello to curved contours. In lieu of razor-sharp silhouettes, 2019 will see more rounded, 1970s-inspired furniture. "From circular swivel chairs to curvy sofas, this season embrace shapes.
In the living room, play with angular lines by pairing these with a hexagon-patterned rug and angular lights, while for the bedroom opt for an asymmetric bed as a statement piece," says Arshi Mukri, design expert, Pepperfry.
Personal style paramount
The only thing constant about trends and fashions is change.  Even as you follow trends, never forget to add your individual touch. Your home is supposed to be an extension of your personality. Accentuate your space with the memorabilia that is precious to you. "A home should always tell the story of who you are, regardless of the changing trends," adds Aiyappa.
Natural &organic accents
Importance of sustainability can't be undermined in these times. Designers are taking to sustainability by using of natural building materials in architecture and native textiles in interior spaces.  It is expected that more people would demand refurbished and upscaled furniture and furnishings.  Jute, cotton, linen and silks are in, while any material that is not biodegradable — plastics and synthetic derivatives —will be done away with. "Besides natural materials like marble, blown glass and tactile lava stone, natural fabrics too will be a favourite with interior designers. Upholstery, throws, cushions and curtains will come in various styles like bohochic, French, Indian, but the material will remain a constant" adds Shailja.  The use of native organic fabrics such as cottons and handlooms will add warmth to space.  Moreover, womb-like beds, upholstered headboards and footboards will up the relaxation quotient.
Lots on the shade card
Given that living coral is Pantone colour of 2019, this hue is expected to set the design world on fire.  A vivacious, peachy orange with an undercurrent of pink, the colour reflects warmth, cheerfulness, hope and nourishment. Primary bold colours, deep shades, metallic accents and bright spaces are definitely something to look forward to as well.  Instead of introducing small pops of colour to an otherwise muted décor, a larger dose of colour in the living space will be welcomed.  "Also, one can combine bright colours, patterns and prints to create contemporary and quirky decor." says Aiyappa Alemada, Business Head, Purva Streaks. Various metals would be mixed and layered to create dramatically different products. "Antique gold, gold patinas, period brass, black gold or bright gold would be frequently seen next to concrete raw finishes. Gold is surely on a roll among other popular metals." says Shailja Awasthi, principal designer & founder, Stories Design Studio.
Make room for greens
The trend of including plants, vertical gardens and plenty of terrariums will dominate the garden. Large-leafed ornamental plants, Chinese money plant and bonsais will be popular.  Apart from this, eco-friendly practices will take the forefront and this includes energy-efficient designs with less glass, more ventilation and the use of solar-and-wind-powered energy supply.
["source=tribuneindia"]