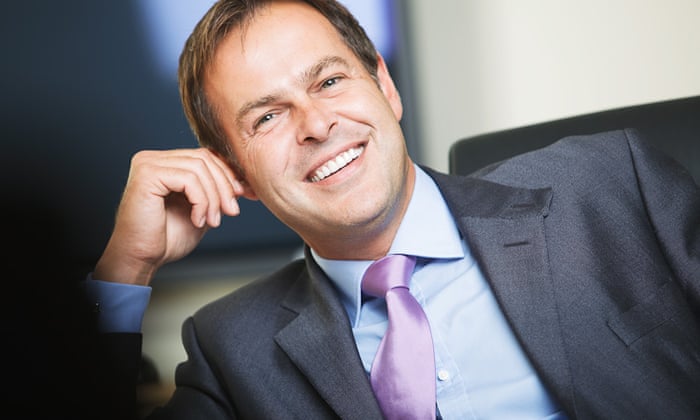 'One of the things that annoys me in business is words like innovation,' Peter Jones says. 'It's about doing something better than your competition.' Photograph: Alex Griffiths
You've said intuition is an entrepreneur's inbuilt radar system. Has yours ever been wrong?
As much as you read about the successes, there are many things that have not gone right for me in business. But I've always had this mantra that there's no such thing as failure, only feedback. It's what you learn from mistakes that determines whether you make it again. Even today, I learn all the time.
One of the biggest things about being an entrepreneur is that you're driven by self doubt. You will certainly doubt your decisions, but you have to strengthen the team around you and you have to lead [that team]. One of the biggest reasons entrepreneurs don't succeed is because they have too many chiefs. You've got to bring in the right people to make the right decisions.
I know what it's like [to not get it right] – at 28 I lost everything through making some fundamentally silly mistakes [a client went bust and he didn't have insurance]. That was a big learning curve. When you do make losses, or you have businesses that don't succeed, it's about knowing when to stop and do something else.
You've been on Dragons' Den since it launched in 2005. What are the mistakes entrepreneurs make when pitching for investment?
So many people try to pitch their business from cue cards, have over-rehearsed, or memorised a five-year plan. What [we want to see, is that they] really understand – with a level of passion – what their business does and the market in which they're entering. People use buzz [phrases] like, "there's a gap in the market" – but is there a market in the gap?
One of the things that slightly annoys me in business is that we use words like innovation. Young people often think innovation is about doing something new, but actually it's not. It's about doing something better than your competition.
You've also got to be able to pitch concisely. Be short, to the point, and don't exaggerate the numbers. So many people crumble when it comes to the numbers and we end up focusing purely on that, [which is] a shame.
We didn't invest in Trunki, for example, because it was overvalued at the time. It took [the founder] four years to build the business to the same value he was asking for. It's a great product (even though I think Theo Paphitis broke it) and now every child has one – but the high valuation made it difficult to invest in the den.
My 15-year-old daughter was eight at the time and she called me afterwards and said "Dad, why didn't you invest? It's really good, I like it!"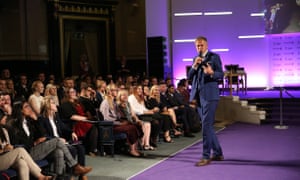 What led you to set up the Peter Jones Enterprise Academy in 2009?
I set up my foundation in 2005, because I wanted to focus on enterprise training, particularly in schools. A year or so later, I was advising Number 10 and I asked: "What do we have in this country to teach people how to be entrepreneurs?" – I was quite shocked to find there was only business studies. You can learn to become an electrician or a plumber [as an apprentice], but you wouldn't learn how to run that business.
There are lots of people who say you are born an entrepreneur – you either have that gene or not. I really disagree with that. I believe everybody can become more entrepreneurial [even if] you don't become the next Richard Branson.
We created the Peter Jones Enterprise Academy to offer Britain's first qualification in enterprise and entrepreneurship. We started with a BTEC level 2 and added a level 3 and an apprenticeship. We've had just under 4,000 graduates so far and we are aiming to get to 10,000 in the next three to four years. It's really exciting.
You've described yourself as an eternal optimist. What advice would you give to entrepreneurs feeling uncertain in the current political environment?
Even though I am an optimist, I'm still very much a realist. My optimism is based on what we need to do and how we move forward, as opposed to a doom and gloom perspective.
Brexit is incredibly hard. I've got 25 companies in different sectors, so [I'm quite] diversified. The operations where we sell product have been severely hit because of currency instability, particularly against the dollar. Rather than being more product focused, we have to change very quickly to become more service orientated.
Jessops is a good example – we introduced an academy 18 months ago, so [customers] can now learn how to use a camera. That means we've sweated the best asset we have, which is our people. While we're not making as much margin [on products], we've supplemented that by offering a service.
We've also looked at areas outside the UK. Our e-commerce software company now has offices in Hong Kong, Singapore, the US and Canada. We've decided to invest outside the country so that we have more effective tentacles in different markets. We're not solely reliant on Europe.
In the wake of Donald Trump becoming president of the US, it was suggested you might make a good prime minister. Are you interested in entering politics?
I do think the government needs real business advice, rather than attaching names for publicity reasons. Lots of different people in business could add value, not just by being advisers, but by being embedded in steering committees.
I'm not sure I'm cut out for politics, because I wouldn't bullshit the nation. I'd much rather be open and honest with the electorate and say: "This is reality, this is the situation we're in and this is what we're doing to get out of it". While that might be quite refreshing to hear, I don't think it would go down too well.
I'm not saying I wouldn't ever be interested, but I'm pretty focused on my life in business at the moment.
Sign up to become a member of the Guardian Small Business Network here for more advice, insight and best practice direct to your inbox.
["Source-theguardian"]