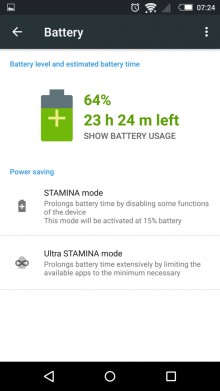 It's back! Stamina Mode has made a return to Sony's Xperia Z5 family of devices, after having been removed when the updates to Android 6.0 Marshmallow started going out.
Now a new software update, with build number 32.2.A.0.224, is in the process of rolling out to Sony's Xperia Z5, Z5 Dual, and Z5 Compact (and the Z5 Premiumshould follow soon). This one will make your phone run Android 6.0.1 Marshmallow, but most importantly for those who love long battery life it brings back Stamina Mode, Sony's own interpretation of a low power consumption state.
The new Stamina settings are portrayed in the screenshot you can see to the left. Needless to say, this is purported to originate on a handset running the new software.
Obviously the update will take a few weeks to reach all Z5 devices out there, as the rollout is staged and will make its way slowly to all the countries where Sony's smartphones are sold.