Following the official unveil of the Xiaomi Mi Max, the company also showcased the latest MIUI 8.
All stock apps now feature a new, colorful redesign but alongside the fresh coat of paint, there are some interesting new features.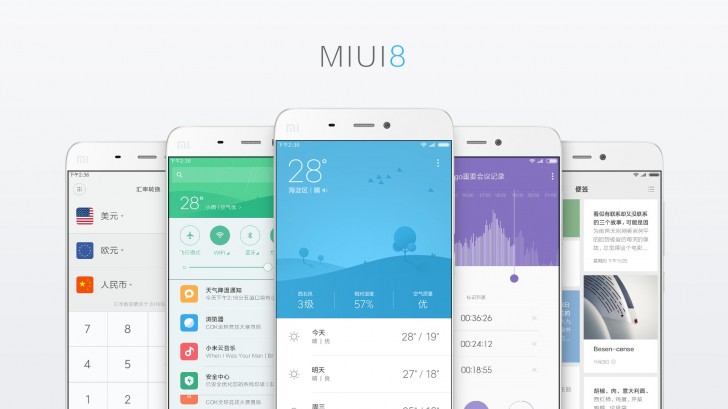 Here's a quick look at the changelog as announced at the event:
Multi-window support: some apps like WeChat and QQ will support multi-window user interface to make use of the available screen.
New Xiaomi font: The company has made a custom Chinese font to offer better mobile reading. It contains 27,533 characters.
Wallpaper carousel: the app will send beautiful images to the lock and homescreen daily. Users will be able to choose from over 12 categories.
New Gallery: The MIUI8 gallery has been heavily revamped and now supports doodles, filters, stickers, cropping and music video creation. Swiping from the bottom allows users to quickly share the final result.
Note templates, new calculator: the Notes app has been given new templates, while the Calculator app now supports advanced calculations and conversions.
Scanner: the Camera app has a new Scanner feature, which generates WeChat/Alipay QR codes. It allows you to scan products in brick-and-mortar shops for buying them online later on. A neat feature is the ability to solve and later share math problems via a QR code generated on the fly.
Power saving and security: MIUI8 is able to detect scam and fraud messages and limit chain start-ups from unessential apps. Finally, the Power saving mode freezes background app activity and can suspend app syncing, updates and background tasks.
MIUI8 will be available for all Redmi and Mi Note series as well as the Mi 2, 2S, 3, 4, 4C, 4S, 5 and Max.
Xiaomi will open the registration for the MIUI8 beta on May 16 and the actual beta ROM will be released on June 1. On June 17, the company will launch a MIUI8 Developer ROM.