The Moto Z flagship will be unveiled in just a few hours on the stage of the Lenovo Tech World event, so it's last call for rumors. Here's a quick summary of everything we've seen so far.
First off, obviously, it's Moto Z, the Moto X name has reportedly been retired (at the same time Sony switched from Z to X, weird, huh?).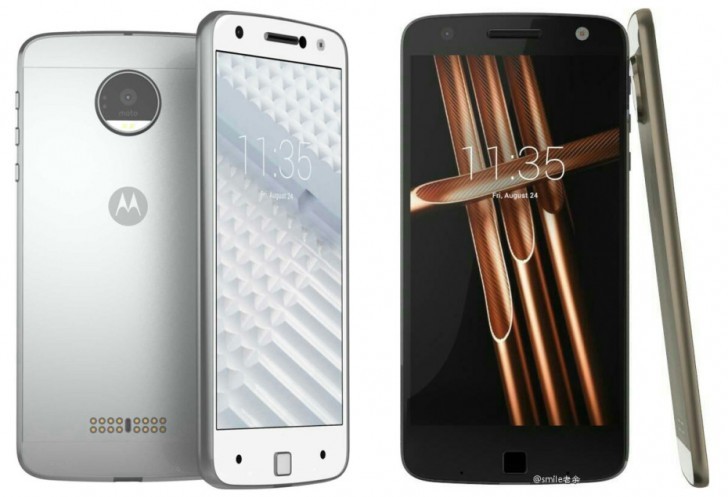 The defining feature of the Moto Z will be its modular design, using MotoMods modules. Unlike Project Ara (which originated at Motorola, but stayed at Google), you only get one module that covers the entire back (with a cutout for the camera). Unlike the LG G5, the modules here are external and probably won't require a restart.
The modules can be used as an alternative to Motomaker, we've seen photos of wooden and leather backs as well as Moto's ballistic nylon. These are called "StyleMods."
Others will add functionality, from basic stuff like extra battery to advanced features like a camera with 10x optical zoom. Hasselblad's name is in the mix, while JBL may provide some serious audio. Rumors even talk of far-out features like a built-in pico projector with stereo speakers for a pocketable movie theater. You can see the pogo pins at the lower back that will provide the connectivity.
As for the phone itself, the Moto Z will be very thin (5.2mm) so even with a module it will stay reasonable. The main camera is reportedly a 13MP shooter with OIS for a solid experience even without modules. Power will come from a Snapdragon 820 chipset with 4GB of RAM. We'll get the monochrome colors (Black and White) and most likely two gold colors (Rose and regular).
By the sound of it, there will be at least two Moto Z phones – one with a 5.2″ screen, one with 5.5″, both using AMOLED. The big model will be Moto Z Style while the more compact phone will be Moto Z Play, similar to the current lineup. The difference in size most likely means that modules will not be interchangeable, though.