Speculation continues on the controversial subject of the next iPhone's 3.5mm headphone jack, or rather the rumored lack thereof. In today's episode, a source out of China states that the decades-old analog connector will remain a feature of the iPhone 7.
A single photo of an alleged back panel for the 4.7-inch future iPhone, posted on Weibo, fails to provide evidence. However, the source is the same user that leaked photos of componentsbefore, revealing the said jack. A Wall Street Journal publication from this week said the jack would be gone, citing unnamed insiders.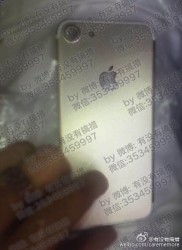 Allege iPhone 7 rear panel (click for full-size image)
Anyway, the back panel in the photo carries a design already familiar from the multitude of leaks. The relocated antenna bands are apparently final and so is the bulkier camera module. The source postulates that a larger CMOS sensor is to blame.