On December 16, Huawei is holding a special event in China where it will unveil the Honor Magic. This smartphone will be a 'concept' device, showcasing the best of what the company can accomplish at the moment from a technology standpoint. Or simply put, it's Huawei's response to the Xiaomi Mi Mix.
We've heard a few odd things about the Honor Magic before, like the fact that it won't sport a built-in camera or speaker, instead relying on a modular system of sorts to add those in. What we haven't yet seen, however, is a picture of it. Well, that changes today – below is an alleged shot of the Honor Magic's front, captured while it was at the fingerprint training stage in its initial setup.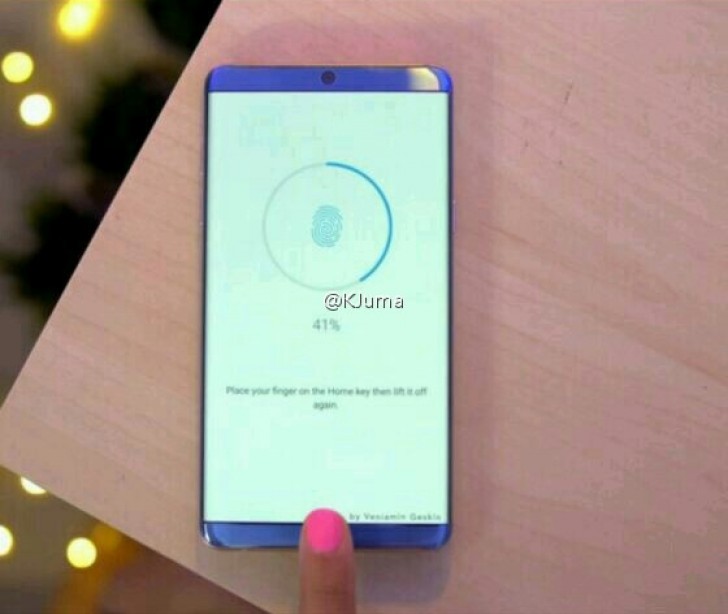 If it's actually showing the Honor Magic, this image confirms the fact that there's a fingerprint scanner on the front of the device, right under the screen, housed in one of the smallest bottom bezels we've ever seen on a smartphone. That's not to say that the top bezel is any bigger, though. And with the screen curving on both sides, this is set to become one of the new kings of display-to-body ratio. And it will achieve that while also having symmetric top and bottom bezels, something the Mi Mix definitely can't boast.
Unfortunately nothing is known about the Magic's specs at the moment. Yet we do hope that Huawei will pair the outstanding looks of this handset with high-end innards, otherwise the Honor Magic is unlikely to make a big splash.
[Source:- gsmarena]