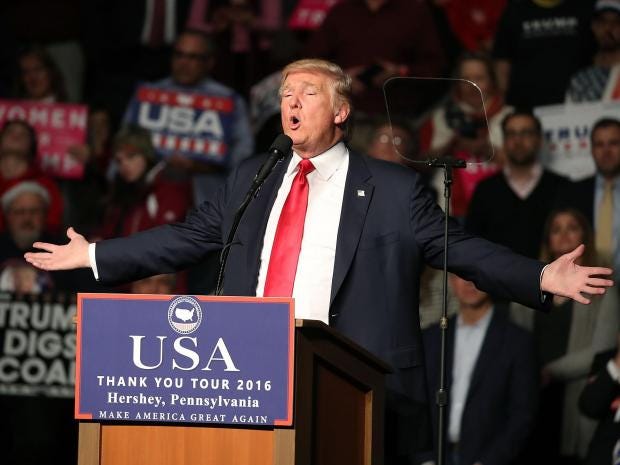 "The American people have understood exactly what they're getting, and they voted overwhelmingly for him," Donald Trump's spokesman Sean Spicer recently insisted to CNN.
The false narrative of Mr Trump's "overwhelming victory", peddled by Mr Trump's surrogates and the president-elect himself, might partially explain the findings of a new survey, showing that the majority of Republicans believe their candidate won the most votes.
The opposite is true, as Hillary Clinton won 2.8 million votes more than Mr Trump, as tallied by the Cook Political Report. That number is still set to grow as the report counts absentee and late mail-in ballots from states such as New York and California.
Yet 52 per cent of Republicans believe Mr Trump won the most votes, compared to just 12 per cent of Democrats. Among those surveyed with a high school diploma, 60 per cent of Republicans think Mr Trump won the popular vote. The percentage of Republicans with some college education and a college degree that adhere to this false narrative slides down to 55 per cent and 37 per cent respectively.
The online poll, conducted by Qualtrics on behalf of the Washington Post, surveyed over 1,000 people between 6 and 12 December.
Mr Trump himself has shown irritation at claims he lost the popular count, tweeting that he would have won both the electoral college and the popular vote if he had campaigned harder in a smaller number of states.
The source of the claim comes from conspiracy outlet Infowars.
Right Wing News falsely wrote that an estimated 6.9 million votes could have been "fraudulent".
[Source:- independent]