A new alleged image has surfaced the internet claiming the device to be the HTC-made Nexus device appropriately codenamed: Marlin. Nexus device codenames have featured the names of sea creatures over the years.
The image only shows us the screen with the rest of the device covered up by a case and cropped as to protect the origins of the photo. And even if it wasn't cropped, we'd probably not be able to see the phone anyway as the image isn't well lit anyway.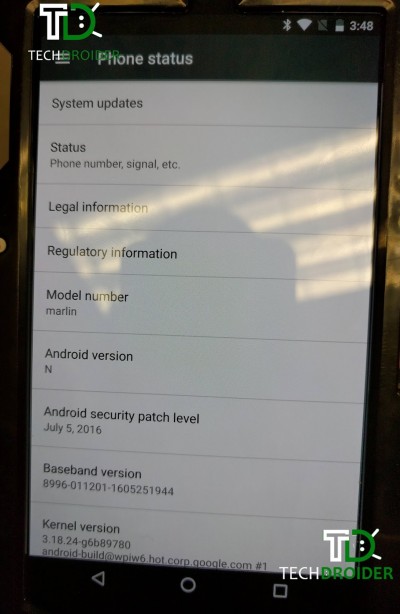 The screen shows us the phone's model name, Android version appears as simple "N" and the phone has the latest July 2016 security patches from Google.
Other leaks and rumors have suggested the HTC Nexus to have a 5.5 inch QHD screen, quad-core Qualcomm processor (something along the lines of a Snapdragon 82X) 4GB of RAM, 12MP rear camera, rear-mounted fingerprint scanner, 8MP front-facing camera, all powered by a 3,450mAh integrated battery.
[Source:- gsmarena]