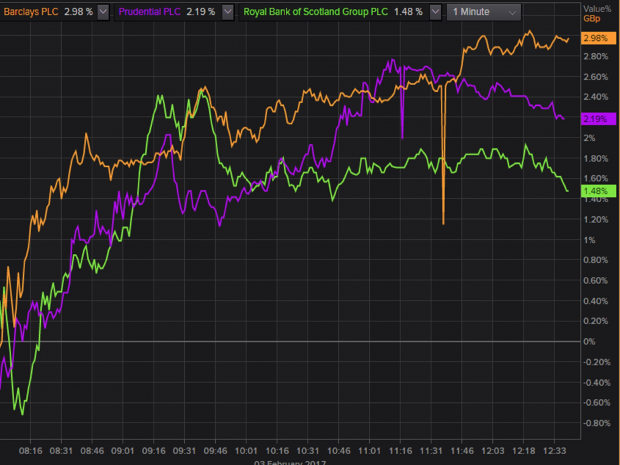 Shares in banks and insurance groups are rallying in London, following the reports that President Donald Trump will take steps to dismantle regulations brought in to prevent another financial crisis.
Mr Trump is expected to order a review of the Dodd-Frank Act on Friday, which was implemented in the aftermath of the 2008 financial crisis to prevent a repeat of the worst financial crash since the Great Depression.
Gary Cohn, White House Economic Council director and a former president of Goldman Sachs, told the Wall Street Journal the order means  that "Americans are going to have better choices and Americans are going to have better products because we're not going to burden the banks with literally hundreds of billions of dollars of regulatory costs every year".
The news sent shares in banks to the top of the FTSE 100 in London. Barclays was leading the risers with shares closing up by nearly 4 per cent in London followed by Prudential, up by more than  2 per cent, and Royal Bank of Scotland up by about 1.5 per cent.
Chris Beauchamp of City trading firm IG said in a note: "UK bank stocks are higher across the board this morning, after the magic words 'Dodd-Frank' and 'repeal' flashed across screens last night; leaving aside the political implications, the news could provide a tonic for the sector."
The Dodd-Frank Act was introduced in 2010 in order to prevent a repeat of the banking crisis of 2008. The sweeping act forced banks to hold higher capital reserves to avoid collapse in the event of a similar economic crash.
Mr Trump implied during his campaign that he thinks that getting rid of – or at least dramatically reforming – the Dodd-Frank Act will encourage economic growth and create jobs.
"Dodd-Frank has made it impossible for bankers to function," he told Reuters in an interview back in May last year. "It makes it very hard for bankers to loan money for people to create jobs, for people with businesses to create jobs. And that has to stop."
[Source:- independent]