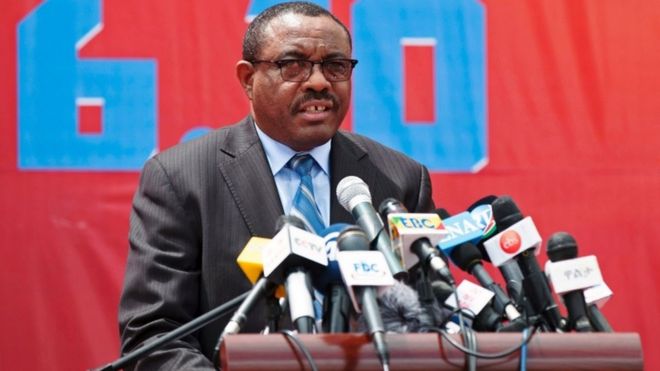 Ethiopian Prime Minister Hailemariam Desalegn has resigned unexpectedly, saying he hoped to end years of unrest and political upheaval.
In a televised address, he said his resignation was "vital in the bid to carry out reforms that would lead to sustainable peace and democracy".
Mr Hailemariam, who has led the country since 2012, also stepped down as chairman of the ruling coalition.
Hundreds of people have died in three years of anti-government protests.
Demonstrations first spread across the country in 2015 amid calls for political and economic reform and an end to state corruption.
Africa Live: Latest updates
Ethiopia country profile
What is behind Ethiopia's wave of protests?
Most of the unrest has centred on Ethiopia's two largest regions, Oromia and Amhara.
A 10-month national state of emergency ended last year.
"Unrest and a political crisis have led to the loss of lives and displacement of many," Mr Hailemariam said.
"I see my resignation as vital in the bid to carry out reforms that would lead to sustainable peace and democracy."
The BBC's Emmanuel Igunza, in the capital Addis Ababa, says protests have continued despite the government releasing thousands of opposition supporters from jail last month.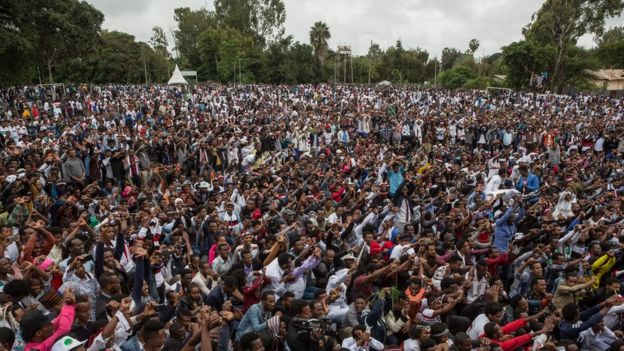 The disturbances have led to deep divisions in the governing Ethiopian People's Revolutionary Democratic Front (EPRDF) coalition, says Mary Harper, Africa editor for the BBC World Service.
Some of Ethiopia's powerful elites have come to see the prime minister as weak and lacking in direction, she says.
A weak and turbulent Ethiopia is risky for the entire Horn of Africa, our correspondent adds, as this normally stable state is seen as key to holding the region together.
Mr Hailemariam said he will stay on as a caretaker prime minister until Ethiopia's parliament and ruling coalition accept his resignation and choose a replacement.

Why did Hailemariam resign?
Analysis by Kalkidan Yibeltal, BBC Amharic Service, Addis Ababa
Since coming to power, Mr Hailemariam has been seen by the political elite as weak and lacking in leadership.
His resignation could be a move by the coalition to find a stronger leader, or it could signal divisions among the constituent parties along ethnic lines.
Particularly visible is the tension between the Tigrayan People's Liberation Front, which has seen its dominance and influence wane, and the Oromo People's Democratic Organisation, which is becoming increasingly more assertive.
Replacing Mr Hailemariam might also be one way to meet the demands of Oromo protesters who have accused the authorities of marginalisation.
The coalition has repeatedly promised reforms over the past three years. Two of its member parties have already changed their leaders while the remaining two are expected to follow suit.
Getaneh Balcha, of the opposition Blue Party, said Mr Hailemariam's resignation was "great news for Ethiopians".
"This is the beginning. Other officials also need to follow this and transfer the power to the public," he said.
Mulatu Gemechu, of the opposition Oromo Federalist Congress, said the EPRDF was not able to lead, to maintain peace or respect the rule of law.
Mr Hailemariam, a trained engineer, took office following the death of Meles Zenawi who had ruled since 1991.
However, while the former deputy prime minister was a close ally of Mr Meles, he struggled to gain approval of the other EPRDF leaders in order to assume his role.