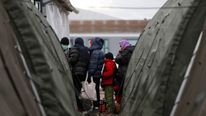 Children were among dozens of migrants who had to be taken to hospital after being found in a van in Croatia.
Doctors said that some of the 42 being treated were unconscious.
Most were suffering from carbon monoxide poisoning.
A total of 62 people – all male – were in the vehicle when it was stopped late on Saturday, Croatian state TV said.
The van had apparently been stopped by traffic police on a road near the town of Novska, not far from the Bosnian border.
The migrants, who are said to be from Afghanistan and Pakistan, had been smuggled illegally into the country.
The condition of the migrants taken to hospital had improved, Dr Maja Grba Buljevic told the Hina news agency.
Thousands of migrants in neighbouring Serbia are thought to want to travel to western Europe.