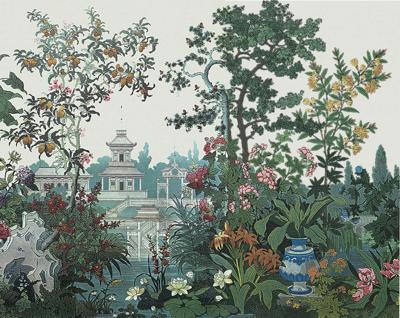 Chinoiserie is the French word for Chinese and refers to the European imitation of Asian culture beginning in 14th-century Italy in decorative art. From there, interest grew until it became quite the rage during the 17th and 18th centuries.
Once the lines of communication opened between Europe and the Orient, a love affair developed from the European point of view for the exotic Asian cultures. Europeans were so intrigued by Asia, particularly the Chinese element, that they attempted to imitate their wares from a fanciful European perspective. The result was chinoiserie, and this became wildly popular with the monarchs and aristocracy of the day. It still has a following and a strong position in interior design today.
From wallpaper to fabrics to figurines, chinoiserie designs appeared in the decorative arts, garden designs and architecture. Asian scenes on fabric, wallpaper and more showcased pagodas, foo dogs, dragons, figures, landscapes and other Chinese motifs. More specifically one could see Asian folk dressed in costumes, Chinese faces with pigtails and beards, water gardens with arched bridges bordered by weeping willows and Chinese vegetation like bamboo and lotus leaves. Lacquered furniture and porcelain pottery, particularly the blue and white ware, along with calligraphic symbols were also characteristic of Chinoiserie.
The trend of designing an entire house around this style may have faded; however, it still has a strong influence in particular pieces such as gilded furniture and mirrors, fabrics, porcelains and wallpaper. These elements can come together to create a whimsical and charming decorative aesthetic that fits right in with today's contemporary designs. Some elements that many find appealing still are the blue and white motifs found often in Chinese porcelain, the extensive gilding of furnishings and the storybook scenery of an Asian countryside.
Many would suggest the secret to the marriage of modern dcor and chinoiserie is to use the style sparingly, as accents. By doing so, one could highlight the 21st-century trend of minimalization with color and interest yet not overwhelm the sparse decor. Many minimalists find their inspiration in nature as they design their homes, and what could be more natural and interesting than a chinoiserie fabric on a sofa or a lacquered chest to add interest to what could be a sterile room?
This is a timeless style that never loses its place in the world of design. It can offer a sense of history and elegance to a room plus it fits in with most any decor whether it is the minimalist trend as mentioned or the traditional styles of the last century. The designs go well in most any room of the house from bedroom to bath to gathering room.
Now that we know what it is, can we pronounce it? Sheen-wa-zeh-ree – being a French word from the get-go it is a bit out of our wheelhouse, but, like many things, the Internet will walk you through it. There is also more information out there about this trend and its history, if one is interested.
["source=herald-dispatch"]