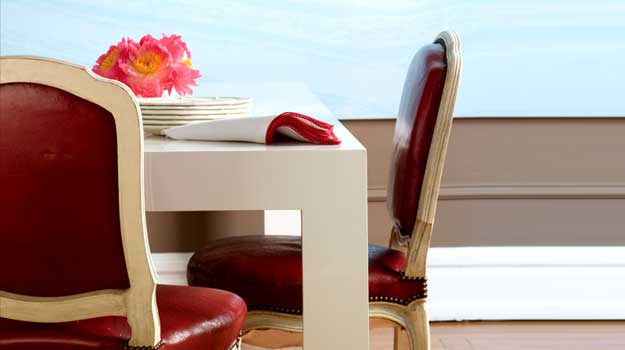 Photo by: Anne Schlecter — Handout
Fifteen years ago, when my husband and I moved into our apartment, I insisted on having a proper dining room. I had grandiose ideas of weeknight family meals with cloth napkins and china, followed on the weekends by candlelit dinner parties and festive holiday get-togethers. I was naive. I did not understand the changing needs of our growing family. Seemingly overnight, our toddlers needed a place to do craft projects, then as grade-schoolers they needed a place to do homework, and now as teenagers, they need a place to hang out. My life plan was unrealistic; my dining room design, impractical.
That's not to say I got everything wrong. And for the mistakes I made, well, like all decorating disasters, I will correct them over time. Plus, I now have experience and hindsight I can share.
Here is my advice on getting a dining room you love, right from the beginning.
Paint
I painted our dining room a dark chocolate brown with white woodwork and have never felt the need to update or change it. The color is cozy, looks good with just about everything (flowers, china, linens) and wears well (you can just barely see the pen marks that my then-4-year-old son made). Other tried-and-true paint colors for livable dining rooms are reds and corals because they complement most skin tones; people look good just sitting in them. Some of my favorite dining room colors:
– Benjamin Moore's Wood Grain Brown.
– Benjamin Moore's Million Dollar Red.
– Fine Paints of Europe's WC-32 (a coral shade).
Lighting
Most rooms look best with several sources of ambient light, and nowhere is this more important than in the dining room. (You want yourself and your guests to look their best.)
In our dining room, I installed two pairs of sconces that provide pockets of light without overpowering the room. In general you should mount sconces so that the bulbs are about 5 1/2 to six feet high. Most sconce sockets won't accept bulbs over 40 watts, so the light will be less harsh. I prefer sconces with clip-on shades to soften the bulb's glow.
From the beginning, I installed an overhead light, but I never got around to buying a chandelier. Instead, I have a flush-mounted fixture. This has worked to my benefit: A chandelier or a low-hanging fixture would have limited the flexibility of the room because it would hang too low for people to pass under it if the table is moved. (Standard dining table height is 29 to 30 inches, and typically the bottom of a hanging fixture should be about 30 inches above the tabletop.) I can freely rotate my table or move it out of the way and have the entire space free for a cocktail party or a game of Twister.
By far the smartest lighting choice I made was to install dimmers on all light sources. I tend to do this in every room, but they're essential in the dining room, where different purposes (kids doing their homework vs. eating Thanksgiving dinner) require varying amounts of light.
Storage
I devoted one wall of our dining room to storage. Most dining rooms have too much space to not have some sort of storage unit. Look for a piece that is roomy but not gargantuan. Then fill it with essentials for serving and entertaining – fine china, serving pieces, napkins, candles, matches – so you won't have to rummage through your kitchen cabinets to find what you need. Our storage piece is also where we keep board games and art supplies.
Table
I love our dining table (Jasper Morrison's Gamma Table for Cappellini). It's perfectly proportioned for the room, but its white lacquer finish is too fragile for the daily wear and tear that it has received. The edges are chipped, and there are plenty of pen and pencil scratches on its surface. Someday I will replace it, most likely with a table that has a sealed-stone top. When choosing a table material, think about personal taste, but make sure you temper your decision with practicality.
I am happy with the size and proportion of our table (about 3 by 8 feet). I believe the best dinner parties have 10 guests or fewer, so that is the maximum our table seats. When it comes to proportion, the size of the room should dictate the size or your dining table. A good rule of thumb is that the footprint of your table should cover no more than a third of the floor's total space.
As for table shape, square and rectangular tables are well suited for the shape of most rooms (which is to say boxy), allowing the most table for the space, though circular models are more conductive to conversation.
When shopping, always check the stability of the table and make sure there aren't any awkwardly placed supports that might threaten to hurt your guests' legs.
Chairs
So here's where I really blew it. I bought fragile antique chairs that have required a ridiculous amount of maintenance. For upholstered dining room chairs (or any upholstered chair that is going to regularly come into contact with food, drink, paint or pen), opt for outdoor fabrics or leather; both are long-lasting and easy to clean.
Look for comfortable dining chairs that invite after-dinner lounging, and make sure the chairs are easy for all your guests to move (children included). Cumbersome styles, overstuffed seats and chairs with dramatically splayed legs make it tricky for guests to maneuver in and out.
As for style, pick chairs that are of contrasting colors and materials to your table. Beware one-click purchasing based on aesthetics alone. Pair a marble tabletop with wood chairs or an antique mahogany table with white-frame modern chairs. A surefire way to make your dining room chic is to blend styles and finishes – old with new, light with dark, slick with aged.
Mirror
Mirrors are especially appealing in dining rooms because they reflect candlelight and add to the overall ambiance, but mirrors also double your view. For example, we have only one window in our dining room, which isn't really an issue if you're primarily using your dining room at night, but we now use the room all day long, so sunlight is a luxury. With a large mirror directly across from the window, it now looks as though we have two windows!
Wherever you decide to hang a mirror, make sure it reflects something beautiful. Think of the phrase, "If you don't have anything nice to say . . . ." My credo for mirrors is similar: The merits of a looking glass are lost if the only thing it reflects is a pile of junk.
Rug
It's only recently that I have added a rug to our dining room. When we first moved in, I liked the way our formal parquet floors looked, and the thought of red-wine spills on a rug was enough to dissuade me from covering them. But because we use the room for so many other activities besides eating, I felt the need to make the room cozier and more comfortable underfoot. I chose a Moroccan wool Berber area rug. It's easy to clean, and the pattern disguises spills and crumbs.
Elizabeth Mayhew, a "Today" show style expert and former magazine editor, is the author of "Flip! for Decorating."
["Source-ndtv"]