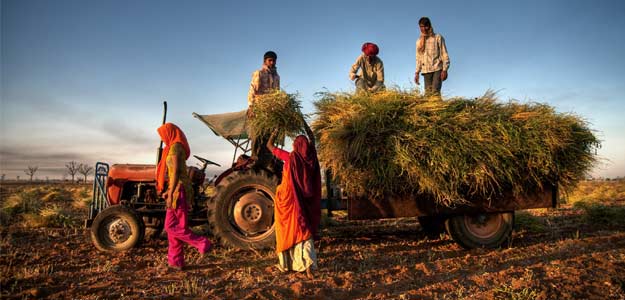 Finance Minister Arun Jaitley's first budget had quite a few tax sops for the middle class, while his second budget provided some relief to corporates. Most economists expect Mr Jaitley's third budget to focus on fighting the distress in India's countryside, home to over 150 million households or nearly 50 per cent of India's population.
The big reasons for the rural distress are,
1) Two consecutive years of drought have led to a collapse in farm sector output, which is down from 4.2 per cent in FY14 to -0.2 per cent in FY15. Farm output is estimated to grow at a tepid 1 per cent in FY16.
2) The slump in global commodity prices has proved to be a double whammy for those dependent on agricultural income. Grain exports, which are almost 40 per cent of domestic agriculture exports, have fallen 35 per cent so far this fiscal, as international grain prices slipped 15 per cent, according to Crisil.
3) Lack of policy support has also contributed to rural distress. The government has been criticised for small hikes in the allocations for the National Rural Employment Guarantee Scheme despite two back-to-back drought years.
Only 23 million households were provided employment in fiscal 2015 as compared with nearly 50 million in each of the preceding 5 years, said DK Joshi of Crisil. In the first four months of fiscal 2016, average employment days per household halved, he added.
Limited hike in minimum support prices (MSPs) for crops (to check food inflation) further impacted disposable incomes and rural wages, analysts say. These factors have impacted rural income and demand.
According to Morgan Stanley, rural wage growth has decelerated to an average of 4.8 per cent in 2015 (year to date) from the average growth of 18 per cent between April-09 and March-13.
The slump in rural demand has not only hurt corporate earnings and economic growth, but is also being cited as reason for political reverses the Modi government has faced recently.
"After having lost Bihar (state elections), the government realises that rural vote has turned quite decisively against it and therefore it needs to do something to bring the rural votes back," said Shankar Sharma, vice-chairman and joint managing director of First Global Stockbroking.
"Hope the focus now shifts from FDI, foreign tours (and) bullet trains to farmers, farm labour and droughts," agricultural economist Ashok Gulati had tweeted after BJP's defeat in Bihar last year.
[Source:- NDTV]