There are no plans to make immediate redundancies at high street chain BHS, business minister Anna Soubry has said.
"The clear message is that BHS is still open for business as usual. There are no plans for immediate redundancies or store closures," she told MPs.
Ms Soubry's urgent statement in the House of Commons came after BHS went into administration, putting 164 shops and almost 11,000 jobs at risk.
Administrators will now try to sell all or part of the 88-year old retailer.
The department store is expected to continue to trade in the meantime.
Meanwhile, the pensions regulator said it would investigate BHS, which has more than 20,000 pension holders.
'Fair share'
BHS has fallen behind cheaper and more tech-savvy rivals, and is struggling with debts of more than £1.3bn, including £571m in pension liabilities.
If a buyer is not found, it would be the biggest name to disappear from the High Street since Woolworths in 2008.
The company decided to bring in administrators after talks to sell some of its 164 UK stores to Sports Direct collapsed over the weekend.
It is just over a year since BHS was bought for £1 from the retail entrepreneur Sir Philip Green.
At the time, the new owners, Retail Acquisitions, said they would deliver £160m of funding to help turn around the chain, but they have not been able to raise the sum.
In a Commons debate on Monday night Sir Philip came in for criticism from MPs.
Shadow business minister Angela Eagle said that "if the worst happens" BHS staff would only get 90% of the pension they have "worked so hard for".
"But Philip Green seems to have got much more out of BHS for himself and his family than that," she said.
"BHS staff and the public will understandably want to know whether the former owner who took so many millions of pounds out of the business will have to pay his fair share of the liabilities which accrued during his stewardship."
=
BHS in numbers
£1.3bn

– total debt

£571m

– pension deficit

1928

– the year BHS opened its first store, in Brixton, London
AFP
Meanwhile, a BHS spokesman said administrators had already received more than 30 approaches, raising hopes some jobs might be saved.
But Julie Palmer, of business recovery firm Begbies Traynor, said 30 expressions of interest was "not actually a huge amount", and suggested it would be surprising if more than half a dozen turned into firm offers.
Pensions
Shopworkers' union Usdaw said the appointment of administrators was "devastating news" for BHS staff.
If staff are let go, statutory redundancy pay is up to £479 a week for those who have worked for more than two years.
The government should ensure taxpayers are not left to plug the company's pensions debt, Usdaw general secretary John Hannett added.
The Pensions Regulator is now looking into whether the company deliberately avoided its pension obligations, leaving a rescue team to pick up the tab.
"We can confirm that we are undertaking an investigation into the BHS pensions scheme to determine whether it would be appropriate to use our anti-avoidance powers," a spokesman said.
It said this would be a long and complex process, and refused to confirm any targets of the investigation.
---
What is administration?
BHS has now gone into administration, but what does the process involve? Administrators Duff & Phelps will take over day-to-day control of BHS from the current management team.
Their main job will then be to repay people who are owed money by the company. They will immediately review BHS's books and assess what support there is to keep the business trading.
After that they have three options:
Rescue the company as a 'going concern' – defined as a company that can operate for 12 months without going insolvent; or
Generate more money for BHS's creditors than if the company were closed completely; or
Sell property to repay creditors
In practice, the process is likely to involve selling off much of the stock and the leases that BHS owns. The worst outcome, though, would see the company shut down and BHS disappear from the High Street.
---
'A bit dated'
Phil Dorrell, a retail analyst, told the BBC that going into administration "doesn't mean the stores close today, it means a buyer is sought".
The likelihood is BHS will be sold off "store by store" and "that probably means the name will disappear", said Mr Dorrell, managing partner at Retail Remedy.
"The problem is their trading offer is in the 1980s," he said. "Their stores look a bit dated. They are behind the times."
The brand was rescued from the brink last month after creditors voted to accept a cut in the rent bill for about half of its stores.
However, its owners failed to secure a much-needed loan last week and missed a £100m target from property sales.
They sold their Oxford Street lease in London for £30m but it was far less than they hoped for. And they sold the lease on a Sunderland store to Sports Direct's Mike Ashley for £2m.
'Sincerely sorry'
In a letter to staff, BHS owner Dominic Chappell said: "It is with a deep heart that I have to report, despite a massive effort from the team, we have been unable to secure a funder or a trade sale."
Mr Chappell said he was "sincerely sorry" and assured staff they would be paid their wages this month.
He added: "You all need to keep your heads held high, you all have done a great job, but remember that it was always going to be very very hard to turn around."
Sajid Javid, the Business Secretary, said the government was in close contact with BHS's management.
As far as gift vouchers are concerned, BHS said they would still be valid but may only be used for 50% of the value of the purchase.
For example, to use a £10 voucher, a customer would need to buy at least £20 worth of products.
---
BHS: A history of a High Street stalwart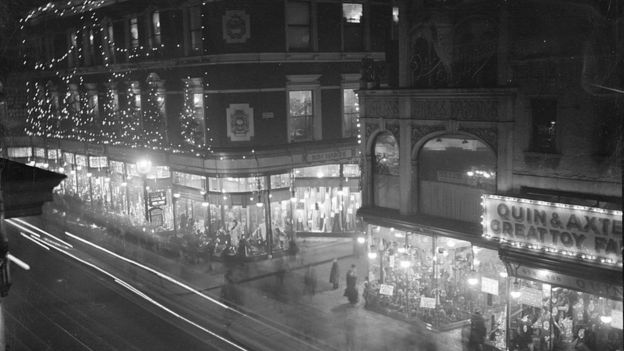 1928: A group of American entrepreneurs set up British Home Stores. The first store is in Brixton and nothing in the store costs more than a shilling (5p) – double that of rival Woolworth's maximum price of sixpence
1929: BHS raises its maximum price to five shillings (25p) allowing it to sell home furnishings, including drapery
1970: The firm expands steadily in the postwar era – by the beginning of the year it employs some 12,000 workers in 94 stores across the UK
1985: BHS begins to franchise its brand to stores around the world, to which it supplies products and support
1986: The store merges with designer Sir Terence Conran's Habitat and Mothercare to form Storehouse Plc, and the "British Home Stores" name is replaced with "BhS", then "Bhs" and eventually "BHS"
2000: Retail billionaire Sir Philip Green buys BHS from Storehouse Plc for £200m
2002: BHS becomes part of the Arcadia empire, controlled by Sir Philip, when he buys the clothing group and its Topshop, Dorothy Perkins and Burton brands
2005: The store resurrects its "British Home Stores" branding, but it is losing ground to cheaper rivals like Primark
2015: Sir Philip sells the loss-making BHS for £1 to Retail Acquisitions led by Dominic Chappell, writing off £215m of debts in the process
2016: BHS begins an insolvency procedure to reduce its rents and transfer its pensions liabilities into the Pension Protection Fund, the government-supported rescue agency