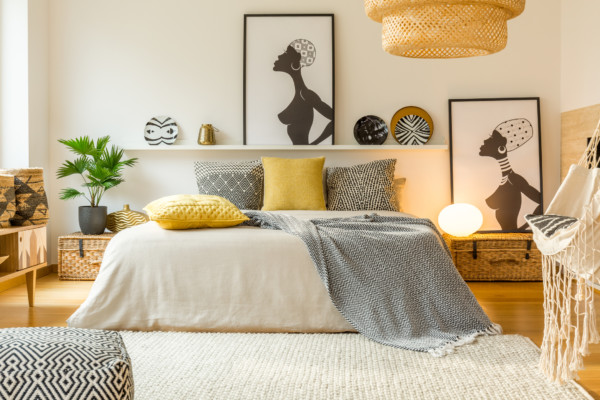 Design is very universal and basically surrounds what your taste is. However, sometimes, there are some outstanding design concepts that just would never go out of style or would for the longest time be a go-to for some of us. We, at Decor Nigeria, would be the first to admit that some of these design trends would be hard to keep up with because views vary wildly, but here's what we think would stand out in 2019.
Corals
Coral is making a comeback this year and it seems it would be staying on our radar for a long time. It is such an inviting, refreshing color with a mysterious edge to it. Not quite pink, neither is it orange, but it's somewhere in between. Corals have a lot to offer. It can be very bold, but also has a soft and feminine shade to it. Bright, cheerful, classic and works well to give your space an instant glamorous boost. Corals are elegant but not fussy and they play well with neutrals. Feeling bored with the regular neutral colors? Perk it up with coral. They make modern interior design feel friendlier and more inviting adding tenderness to your space. When you hear bright and fun, you start to think, is this gender friendly? Of course, it is a versatile type of design and very gender-neutral. Corals would add pop to modern, contemporary and eclectic spaces. We hope it would be a bloom in 2019 as it is a natural uplifting color. We read somewhere that corals transition with seasons; we really look forward to this being a trend in the New Year.
Warm Neutrals
Neutral means impartial or unbiased, due to this description, the use of neutral colors in interior design is common and a strategy that is invariably used. Colors with red, orange and yellow undertones are considered warm neutrals, and the use of one or more of these colors gives a comfortable, welcoming mood to a space. A calm, neutral backdrop allows you to bring out some pretty bold elements into your design that may otherwise look flamboyant. Warm neutrals allow your furnishings to be the focal point and gives your space a sophisticated lift. Warm neutrals prove to be the passive audience that will gladly give a standing ovation to any room. This is the best feature of neutral colors – you will never grow tired of them. Neutral will always be a classic. Need we say more?
Terrazzo
Marbles were a trend in interior design for a while, but we believe terrazzo might just be taking its place. Terrazzo has quite an interesting history; originally created in Venice, Italy many decades ago, terrazzo used to be a cheap flooring option that was made from chips of other materials like quartz, glass, and granite and even marble. They were considered rough coarse and uneven, but with refined polishing techniques and its versatility as a design material for bespoke colouring, choice of thickness, terrazzo soon became a material of choice. Pinterest recently revealed that with its endless color and material options; it is easy to see why terrazzo is growing in popularity. Terrazzo in interior design goes beyond the  floor tiles and table tops that we are used to, its versatility complements a variety of other home décor styles. Popping in wall murals, bath tubs, lighting fixtures, kitchen counters, etc., terrazzo gives you this feeling of nostalgia and beauty… indeed everything but boring and we are definitely looking forward to its versatility this year.
Minimalism
In interior design, less could easily mean more, which means creating spaces with few elements but a lot of weight. The minimalist trend is understandably never fading as a major design style; minimalist interior design is often a foolproof route in creating a warm and nuanced home certain to never go out of style or off-trend. One major mantra of minimalism in interior design is simplicity. By simplifying your home, you have increased positive energy and created a synced flow through and through, yet not shying away from an inviting and functional home. We would recommend this design style for those who would want to omit the fluff and include only the essentials to the content and function of their overall design. This is one interior design style we don't see going out of style soon that's why we consider it staying firmly in 2019.
We believe 2019 is a year dedicated to creating spaces full of comfort and quality. We are excited to know what design style you think would trend in the New Year and why in the comment section. For us, we look forward to see these design styles & ideas used in various forms in the New Year. We hope that 2019 would bring a possibility for every taste.
["source=bellanaija"]