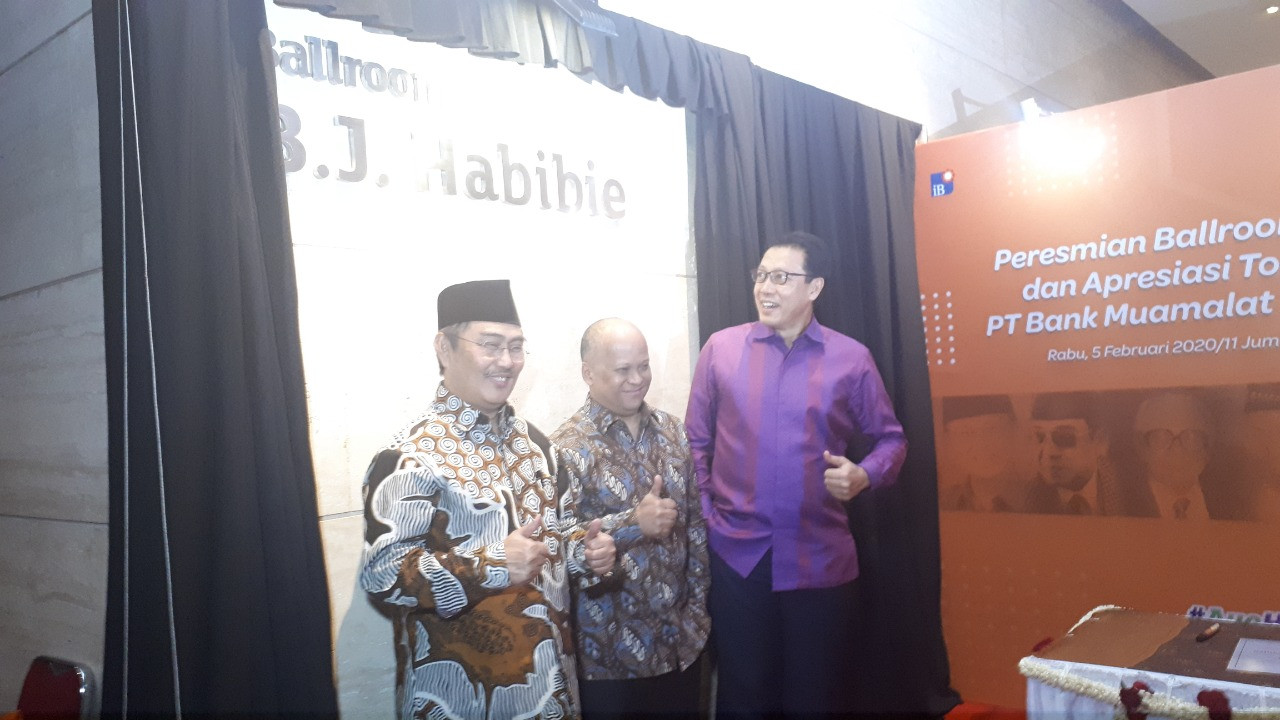 Bank Muamalat president director Achmad K. Permana (right) poses with Ilham Akbar Habibie (center) during a ballroom naming ceremony to honor the latter's father, the late former president B.J. Habibie. (JP/Eisya A. Eloksari)
The pioneer of sharia banking in Indonesia, Bank Muamalat, is gearing up to fix its business performance with Rp 3.2 trillion (US$223 million) invested by a consortium initiated by Ilham Akbar Habibie, son of the late former president B. J. Habibie.
The bank's president director, Achmad K. Permana, said on Wednesday that under the consortium led by Al Falah, Bank Muamalat would get around Rp 3.2 trillion in fresh capital from a rights issue. Al Falah is a Singapore-based sharia investment company led by Ilham Habibie in partnership with CP5 Hold Co 2 Limited, fully managed by SSG Capital Management Limited.
"The investment amount is greater than the initial estimate of Rp 2 trillion," he said on the sidelines of a press briefing. The company was also open to other investors, and the amount of capital could be higher, Achmad added.
Pending approval from the Financial Services Authority (OJK), the investment would see the Al Falah-led consortium control 77 percent of Bank Muamalat. The stakes of existing shareholders, which include the Islamic Development Bank, Bank Boubyan and Atwill Holdings Limited, will be diluted.
Muamalat is weighed down with bad assets as nonperforming financing (NPF) soared to 4.64 percent in last year's third quarter, nearing the unhealthy level of 5 percent. Bad loans surged over the course of a year, as the NPF stood at 2.5 percent in the third quarter of 2018.
"We will change our business model to focus more on retail," Ahmad said, adding that Bank Muamlat's business so far had been mostly in the corporate segment, which accounted for 65 percent of the lender's financing.
Numerous mergers and acquisitions marked Indonesia's banking industry in 2019, despite loan growth declining to levels unseen in more than three years amid global economic uncertainty. Investors see potential in the market size and high profit margins in Southeast Asia's largest economy.
Legal expert Yusril Ihza Mahendra, who headed the legal team of the Joko "Jokowi" Widodo-Ma'ruf Amin election campaign, has been onboarded to help the bank manage its NPF.
"I will assess the problem and find solutions, either with warnings, negotiations or legal means," Yusril told the press, while also expressing hope that all problems regarding clients' NPF could be resolved in the next two years.
OJK chairman Wimboh Santoso said on Tuesday that the authority had approved the consortium's acquisition of the bank after completing some administrative work.
When asked about the approval, Ilham told the press that he could not provide any details, adding that the process could take two months or more.
According to OJK data, Bank Muamalat's net profit fell to Rp 6.57 billion in the period of January to August 2019, down 94 percent from the same period of 2018.
Bank Muamalat is one of five financial service providers under scrutiny by the House of Representatives' Commission XI, which oversees financial affairs. The Commission in January formed a working committee to monitor Bank Muamalat as well as state insurers Asuransi Jiwasraya, Asabri and Asuransi Jiwa Bersama (AJB) Bumiputera. It will also look into financial problems at state-owned pension insurance firm Taspen.
["source=thejakartapost"]