Just as expected, today Google is starting the rollout of Android 7.0 Nougat to supported devices. These are the Huawei Nexus 6P, LG Nexus 5X, Motorola Nexus 6, HTC Nexus 9,Asus Nexus Player, Google Pixel C, and General Mobile 4G.
The release comes a little more than a month after the final Android 7.0 Developer Previewbecame available, keeping with Google's revamped timeline this year. Since the company is doing things differently in 2016, there are no new Nexus devices becoming official today.
As is usually the case with Android system updates, the rollout of Android 7.0 should take weeks to complete, so don't panic if your beloved Nexus isn't showing an update notification in the next ten minutes. Devices that are currently running the Developer Preview will be updated too, by the way.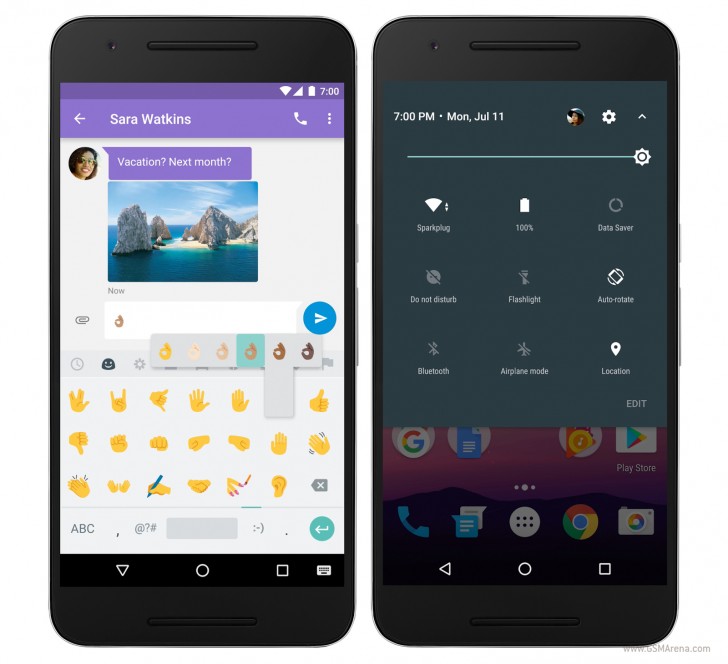 The expanded emoji and customizable Quick Settings in Android 7.0 Nougat
Android 7.0 Nougat brings with it the ability to set multiple locales and languages, 72 new emoji, multi-window functionality, a way to quickly switch to the previous app (by double-tapping the multitasking button), the Vulkan graphics API, a dedicated VR mode, Doze on the Go for even better battery life when you're on the move, custom Quick Settings, direct replies from notifications, bundled notifications, a built-in mobile data saver, file-based encryption, and much more. For a full list you can check out Google's official page for this release.
[Source:- gsmarena]