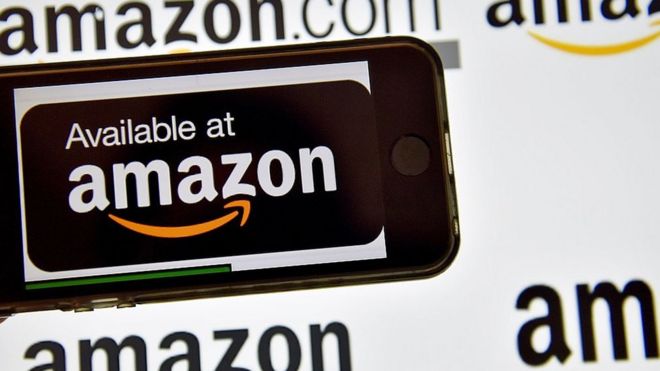 Amazon has said that plans to spend more on improving its warehouses and video content would hit profits in the current quarter.
The online retail giant also narrowly missed analysts' sales expectations for the busy holiday season.
Amazon's shares fell more than 4% in after-hours trading on Wall Street.
The firm is spending heavily to take greater control of its logistics and expand its subscription-only Prime video service.
One analyst said the US firm had decided to spend more of its profits to help it expand at "breakneck speed".
'Huge expansion'
Martin Garner, an analyst at CCS Insight, said: "Amazon is in the middle of a huge expansion of its logistics and infrastructure, which started in mid-2016 and will carry on through much of 2017."
It has increased its warehouse space by 40%, invested heavily in its Indian operations and expanded its fast-growing cloud computing unit, Amazon Web Services, he said.
Amazon Prime Video, which has the rights to shows such as The Grand Tour and Man In The High Castle, has been launched in 200 more countries, he added.
Amazon said first-quarter operating income would be between $250m and $900m (£200m-£720m), compared with $1.1bn for the same period last year.
The firm, which now has more than 340,00 staff worldwide, reported a 22% rise in revenue to $43.7bn in the fourth quarter.
Analysts had forecast larger sales of $44.7bn after Amazon said last month the holiday period had been its best-ever shopping season.
For the full-year, sales increased 27% to $136bn and net income soared fourfold from $596m to $2.4bn.
'Achilles heel'
On Monday, Amazon announced plans to to build a $1.49bn air cargo hub near Cincinnati aimed at reducing its reliance on external delivery companies.
It plans to schedule more than 200 flights daily, and says it will cut costs and bring packages to customers quicker.
"Low cost and fast delivery are a fundamental part of Amazon's appeal to consumers. However, they are also its Achilles' heel," GlobalData Retail analyst Anthony Riva said.
The online giant is also producing more television programs for its subscription-only Amazon Prime service, and is developing an array of gadgets that use its new artificial intelligence assistant Alexa.
"Amazon is pushing hard with its voice assistant, Alexa," Mr Garner said.
"In addition it has large numbers of developers starting to use Alexa in their products and services, so it is building out the ecosystem quickly."
[Source:- BBC]