After being the most popular Windows Phone device for almost 3 years, the Lumia 520 has finally been dethroned. According to latest data from market research firm AdDuplex, the Lumia 535 has now claimed the top spot.
The Lumia 535 now has a market share of 12.5%, ahead of 11.3% claimed by the Lumia 520.The Lumia 630, 640, and 635 round up the top-5 with the first two claiming 8.3% share each while the latter claiming a share of 6.3%.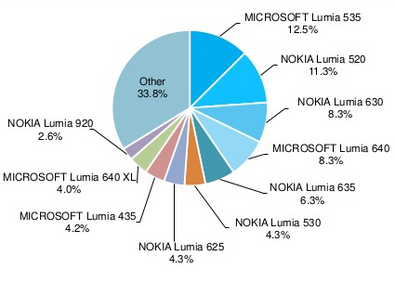 The report also revealed some other interesting statistics. For example, Microsoft manufacturers over 97% of WP devices now, with around 80% of them running Windows Phone 8.1. Windows 10 Mobile currently accounts for less than 10% of the total.
The Lumia 640 is the top WP device in the US, while Lumia 535 tops the chart in the UK and India. For more information, head to the Source link below.